Last Updated on September 20, 2023 by Eric
Ever cast a line into the sparkling waters of Tampa Bay, hoping to hook an elusive Redfish? It's an experience that can stir your soul. As you feel a tug on the line and reel in your prize, the anticipation is unparalleled.
This guide will be like setting sail with Captain Bucky Goldman himself aboard Bag 'em Fishing Charters. You'll learn why anglers from all over are drawn to this haven, eager for its rich biodiversity and stunning beauty.
You might not feel the salt spray or hear the gulls overhead, but by diving deep into our guide – complete with tips about targeting Redfish, battling Snook, and luring Seatrout – you'll gain invaluable insights for your next fishing adventure.
Are you prepared to embark on this voyage? Buckle up because we're just getting started…
The Allure of Tampa Bay as a Fishing Destination
Tampa Bay's appeal to anglers is undeniable, with its diverse marine life and vast estuary system offering an abundance of fishing opportunities. With its diverse marine life and vast estuary system, there's always something to reel in.
Tampa Bay's beauty is not only captivating but also provides ample fishing opportunities. It's home to spectacular species like Redfish, Snook, and Seatrout, making every cast exciting and unpredictable.
Biodiversity at Its Best
Tampa Bay prides itself on being one of the most biodiverse bodies of water you can find. From Redfish, popularly known for their strong fight capabilities, to Snook – considered by many as one of Florida's premier game fish due to their sizeable stature – this location has got them all.
If your goal is variety or challenge in your angling experience, look no further. The aquatic inhabitants are plenty here, giving both novice and experienced fishermen enough action throughout the year.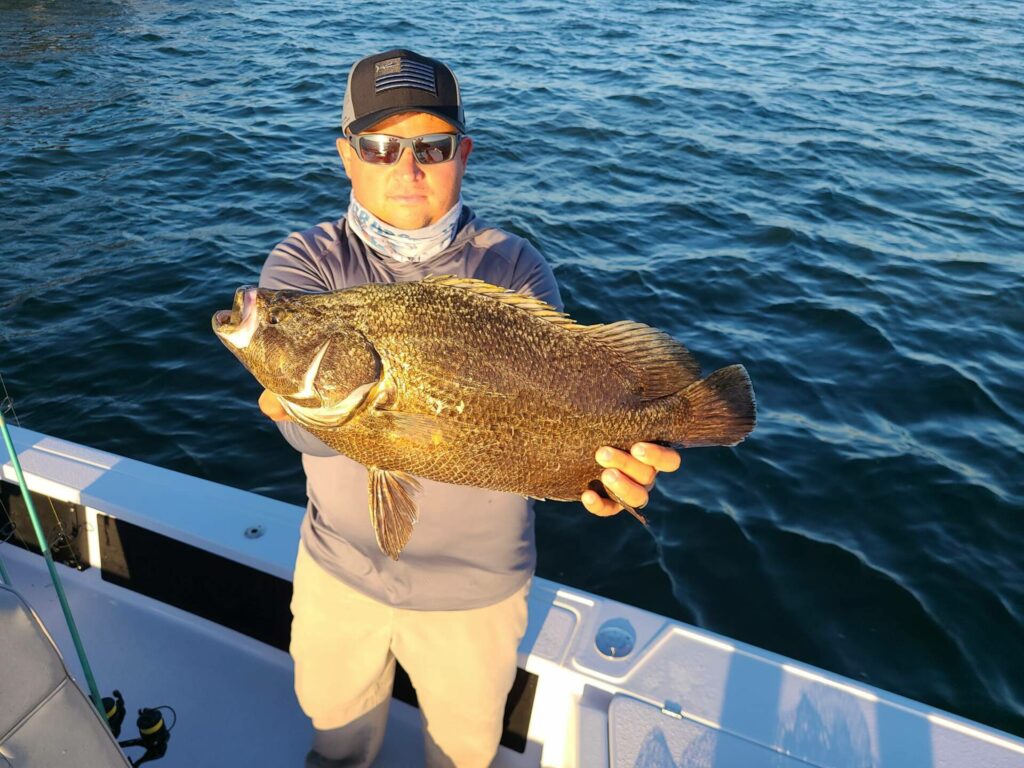 A Scenic Retreat Amidst Nature
Imagine casting your line with a backdrop so beautiful it could be mistaken for a painting: that's what awaits you when you go fishing in Tampa Bay. An expansive estuary system lined with mangroves provides not only stunning views but also serves as prime feeding grounds for various fish species.
This natural setting does more than offer great photo ops, though; it hosts countless stories about those who have landed trophy-sized catches right here amidst this beauty.
More Than Just Fishing
Fishing in Tampa Bay is not just a hobby – it's an exciting adventure that blends the excitement of angling with admiration for nature. Anglers here are part of a tradition that dates back generations, and each fishing trip adds to their tale while honoring those who came before them.
Let's celebrate the essence of teamwork.
To Summarize: 
Dive into Tampa Bay's fishing wonderland, a dream spot for anglers due to its rich marine diversity and expansive estuary. Each cast brings thrilling prospects of catching stunning species like Redfish, Snook, or Seatrout in awe-inspiring surroundings. But remember, it isn't just about landing the big one – it's an homage to time-honored traditions and passion.
Unraveling the Expertise of Captain Bucky Goldman
If you're looking for an unforgettable fishing experience in Tampa Bay, look no further than Bag 'em Fishing Charters. Led by none other than Captain Bucky Goldman, a Florida native with over 25 years of experience fishing the waters of Central Florida and eight years guiding full-time.
Born and raised on Florida shores, Capt. Bucky is not just familiar with the local marine life—he's practically part fish himself! His vast knowledge of Tampa Bay's diverse species and their habits ensures that every trip out into the bay becomes a thrilling adventure.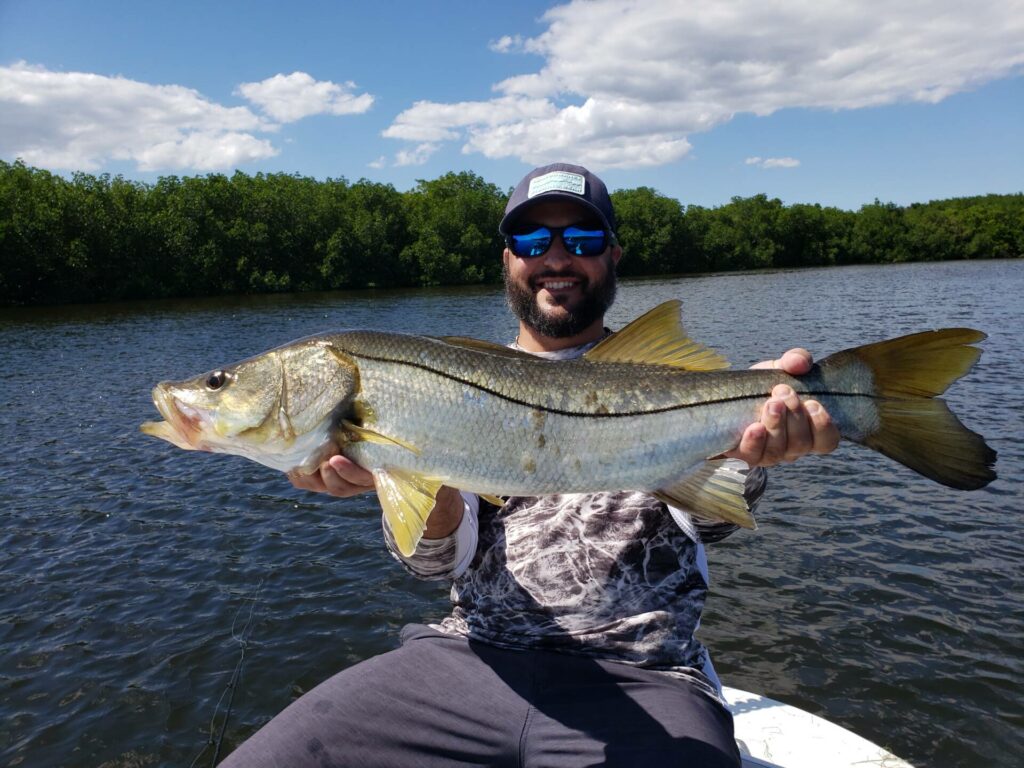 The Man Behind The Rod: Captain Bucky Goldman
A true expert in both live baiting and artificial lures, Capt. Bucky ensures that every charter is tailored to your preferences for maximum enjoyment—and success!
Before making waves in Tampa Bay, he honed his skills guiding at the world-famous Mosquito Lagoon, where he developed his unique techniques, which have proven successful time after time.
Tampa Bay's Finest Catch: Redfish, Snook, Trout & Tarpon (Seasonal)
No matter what you're hoping to reel in during your expedition—be it Redfish or Snook, trout or tarpon fishing—you can trust that Capt. Bucky will lead you right where they are biting most fiercely! With detailed information about each target species' peak seasons as well as specific tips on how best to catch them under different conditions provided by him personally, it won't be long before you'll be pulling up some serious brag-worthy catches yourself!
Experience Tampa Bay's Biodiversity
If you're looking for an unforgettable fishing adventure, look no further than Bag 'em Fishing Charters. The rich biodiversity of Tampa Bay makes it a prime destination for anglers. This isn't just about the fish; the diverse wildlife and unique plant life that thrive in this estuary add to its appeal.
Inshore Fish Species: More Than Just the Big Four
The inshore waters of Tampa Bay offer more than just Redfish, Snook, Seatrout, and Tarpon. While these four may be the main attractions, the bay is teeming with a diverse array of other fish species that are equally exciting to catch. Bag 'em Fishing Charters is equipped to help you pursue a broader range of targets, making each fishing trip an even more thrilling and diverse experience.
Among the lesser-known but equally exhilarating species are Black Drum, Mangrove Snapper, Sheepshead, Flounder, Jack Crevalle, Spanish Mackerel, and Cobia. Each presents its unique challenges and makes for a memorable catch.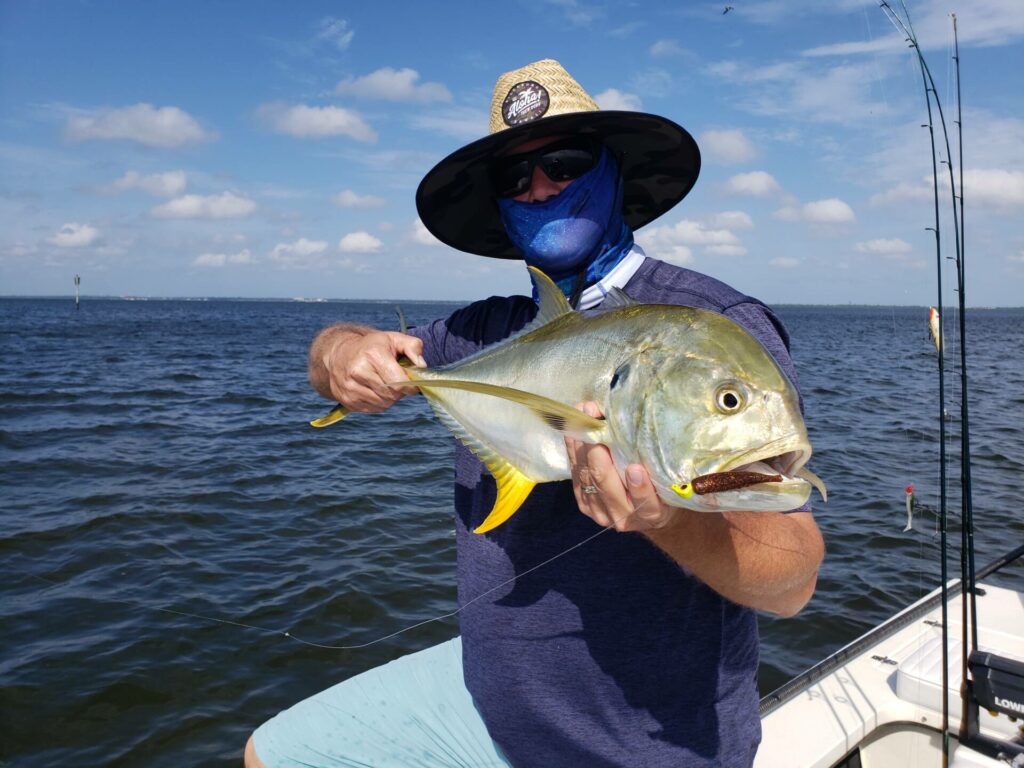 Black Drum: Similar to Redfish in habitat, they offer a robust fight and love live or frozen bait.
Mangrove Snapper: These are prized for their taste and can be found in various inshore habitats.
Sheepshead: Known for their human-like teeth and bait-stealing abilities, these intelligent fish offer a unique challenge.
Flounder: Found near sandy bottoms, these flatfish are a delightful catch.
Jack Crevalle: These are strong, fast fish that often hunt in schools, offering a high-energy fishing experience.
Spanish Mackerel: Quick and agile, these fish are often found near the surface and are known for their speed and delicious taste.
Cobia: Usually found near larger marine animals or structures, they offer a challenging catch due to their size and strength.
So, whether you're a seasoned pro looking for a new challenge or a newcomer eager to explore the rich biodiversity of Tampa Bay, Bag 'em Fishing Charters ensures a well-rounded fishing experience.
Wildlife Beyond Fish
Beyond the allure of these sought-after game fish lies an array of other fascinating creatures that call this bay home. You might spot bottlenose dolphins frolicking nearby or manatees lazily swimming past your boat. Birds such as pelicans, ospreys, and herons can be seen swooping down to catch their meal from the water's surface while turtles bask on logs, soaking up some Florida sunshine.
A Rich Tapestry Of Plant Life
Tampa Bay is not only abundant with animal life but also houses a wide variety of plants, which contribute to its overall biodiversity. From seagrass beds providing vital nursery grounds for young marine animals to mangroves lining much of our coastline offering shelter and food sources – there's always something new to discover here at Bag 'em Fishing Charters.
Captain Bucky Goldman brings his wealth of experience and knowledge to every charter, ensuring you have a memorable time on the water. With real-time online reservation features, booking your next fishing trip has never been easier.
Apart from the thrill of the catch, one of the best things about a Bag 'em Tampa Fishing Charter is getting to experience first-hand the breathtaking beauty and biodiversity of Tampa Bay. From its crystal-clear waters teeming with life to its stunning sunsets painting vivid colors across the sky, it truly is an angler's paradise.
To Summarize: 
Bag 'em Fishing Charters, led by the experienced Captain Bucky Goldman, offers unforgettable fishing adventures in Tampa Bay. With expertise in various fishing techniques and an intimate knowledge of local marine life, Capt. Bucky ensures each trip is a thrilling, tailor-made experience. Beyond the big four species—Redfish, Snook, Seatrout, and Tarpon—the bay also offers a diverse range of other exciting fish to catch. You'll also enjoy the scenic beauty and rich biodiversity of the area, making every trip a well-rounded experience. Online reservations make booking easy.
Embarking on a Journey with Bag 'em Fishing Charters
The journey with Bag 'em Fishing Charters is an adventure like no other. As you cast your line into the vibrant waters of Tampa Bay, each trip feels fresh and invigorating.
The Hassle-Free Experience
No need to worry about paperwork or regulations when you're out on Tampa Bay fishing with us. At Bag 'em, we've got all that covered under our Captain's license. So hop aboard and get ready for some serious action.
We take care of everything so your focus can stay where it belongs – on the fish. And believe me, there is plenty to catch in these parts.
Comfort and Convenience at Sea
Apart from top-notch fishing gear, we provide amenities that ensure you enjoy every moment of your expedition. Our boat is equipped with state-of-the-art equipment, making even first-timers feel like pros.
You won't have to struggle to find those elusive hotspots anymore; our devices do all the hard work for you.
Now, here's something most people don't know: comfort isn't only about fancy gadgets – it's also about feeling secure knowing help is nearby if needed.
Safety is a top priority at Bag 'em Charters; we ensure reliable communication systems are always in place should emergencies arise.
Plus, what could be better than ending an exhilarating day by kicking back on comfortable seats? Nothing beats relaxing while reminiscing about the day's catch and basking in Tampa Bay's stunning sunsets.
Bag 'em Fishing Charters is your ideal choice for an unforgettable inshore fishing experience that offers more than just catching fish. Come aboard and experience it yourself.
To Summarize: 
Embark on a thrilling journey with Bag 'em Fishing Charters, exploring the lively waters of Tampa Bay. Let's toss paperwork worries overboard and concentrate on reeling in big catches – we've got your back. Equipped with state-of-the-art gear, cutting-edge fish finders, and stringent safety protocols, you're set for a comfy sea adventure teeming with impressive hauls. So what's holding you back? Come aboard.
What type of fish can I expect to catch on a Tampa Fishing Guide charter?
You can anticipate catching various inshore species on a Tampa Fishing Guide charter. The common catches include Snook, Redfish, and Spotted Seatrout, the primary targets for most anglers. Additionally, other potential catches encompass Sheepshead, Flounder, and Spanish Mackerel, depending on the season. Tarpon fishing is also offered during its migration period for those seeking bigger challenges.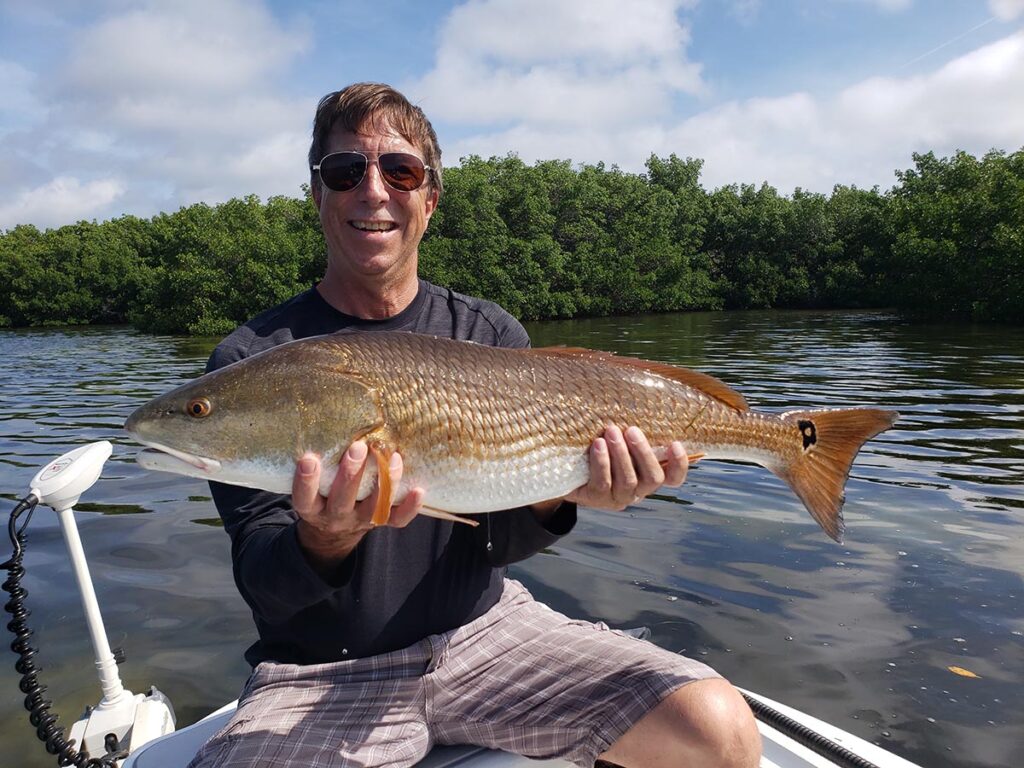 Targeting Redfish in Tampa Bay
If you're a fishing enthusiast, there's no place quite like Tampa Bay. This saltwater haven is home to many marine life, making it an angler's paradise. Among the diverse species that call these waters home, one fish stands out – the mighty Redfish.
The Fall Season – A Redfish Bonanza
Come fall season, Tampa Bay becomes a hub for red drum anglers. The dropping water temperature signals bait fish such as mullet and shrimp to migrate from estuaries towards open waters. This migration creates a buffet line that attracts schools of ravenous Reds ready to bite your hook.
This period has seasoned fishermen swapping tales about their biggest catches around campfires or over bar counters because when it comes down to reeling in big Reds during this time – it's akin to hitting gold at sea!
To maximize your chances during this bonanza time – live bait reigns supreme. Nothing beats rigging up juicy mullets or fingerling pinfish under popping corks or on bottom rigs near mangrove edges where these feisty fighters love lurking.
Picking Your Spot Wisely
Increase your odds against our crimson quarry by focusing on shallow grass flats rich with food-rich sediment for smaller prey species like crabs and shrimps – essentially ringing dinner bells for those bronze bruisers we lovingly call Redfish.
Your key stat here: ideal depth ranges between 1-3 feet deep (or shallower).
Remember: every flat is unique, so don't be afraid to experiment until you hit gold.
Bag 'em Fishing Charters and our experienced guide, Captain Bucky Goldman, can help you navigate these waters to find the perfect spot. With years of experience fishing in Tampa Bay, he knows exactly where those Redfish are hiding.
With Bag 'em Fishing Charters, your next big catch is just a cast away!
To Summarize: 
Experience the thrill of Tampa Bay's fall Redfish bonanza, using live bait near mangrove edges to bag these feisty fighters. Boost your odds by targeting shallow grass flats, and remember, each flat is unique – don't hesitate to try different spots until you strike gold.
The Thrill of Snook Fishing
There's nothing quite like the thrill of Snook fishing in Tampa Bay. These elusive gamefish are known for their powerful runs and dogged determination, offering a challenge to even the most seasoned anglers.
Tampa Bay is renowned as a prime location for Snook. The extensive estuary system creates an ideal habitat with plenty of food sources, making it one heck of a spot to get your line wet. It's not just about luck; understanding this fish's habits will significantly improve your chances at landing that trophy catch.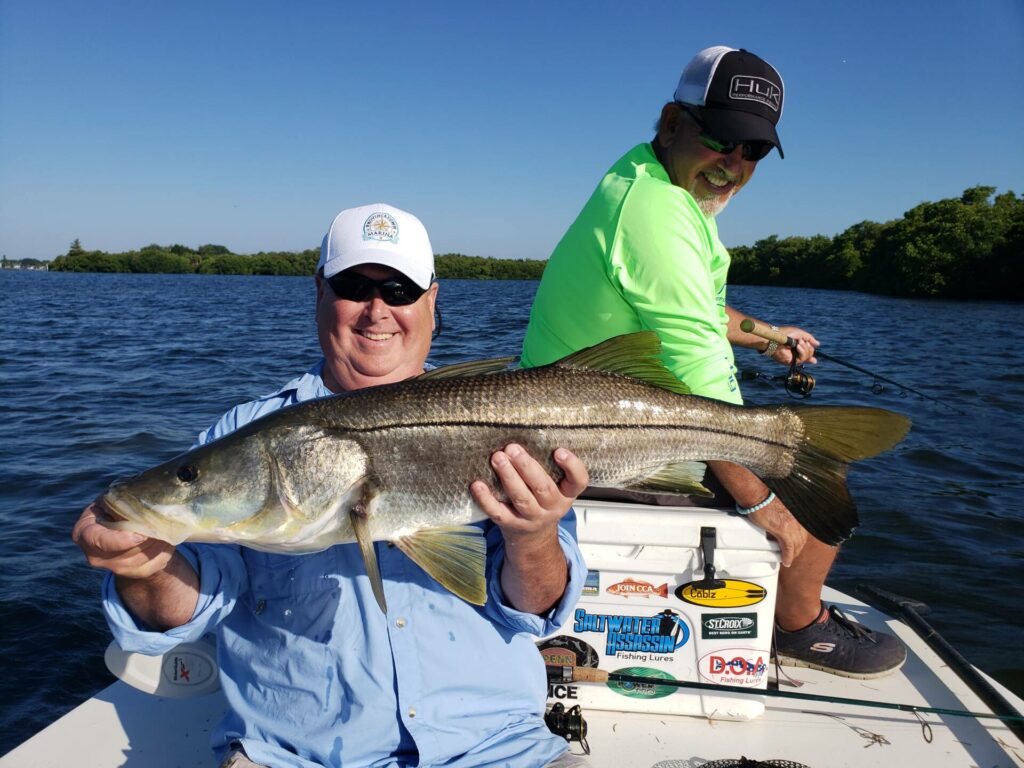 Late Spring to Early Fall – The Snook Season
Finding the right time is essential when targeting these tenacious fighters. Late spring through early fall proves fruitful due to warming waters triggering active feeding patterns in Snooks. During this period, they're often found patrolling mangrove shorelines or grass flats hunting prey—making them easier targets for skilled fishermen.
According to the Florida Fish and Wildlife Conservation Commission, during peak season (which typically starts around late May), there's an influx in snook population throughout Tampa Bay waters—a testament backed by many avid anglers' personal experiences.
If you're wondering how Bag 'em Charters can help you experience this exhilarating pursuit first-hand? Well, let me tell you.
Bag 'em Fishing Charters – Your Ticket To An Unforgettable Experience.
We've been navigating these parts longer than most, and our Captain knows every nook and cranny of Tampa Bay waters. So you bet we know where the Snook are hiding. We take pride in helping anglers hook up with these fierce fighters while providing a fun, safe environment.
Our fishing gear? Top-notch. Our crew understands that suitable equipment is crucial for success when targeting species as robust as Snook. You can count on us to provide quality tackle that'll withstand any fish's powerful strike.
So, if you're chasing that adrenaline kick by taking on one of Tampa Bay's toughest challenges…
To Summarize: 
Experience the thrill of a lifetime chasing Snook in Tampa Bay. These feisty gamefish give you both challenge and excitement. Your best shot at peak action is from late spring to early fall. At Bag 'em Charters, we're all set to lead your thrilling expedition – our seasoned Captain knows all the hot spots.
The Year-Round Attraction – Seatrout
When it comes to fishing in Tampa Bay, one species consistently stands out among the rest: the feisty and ever-present Seatrout. This spotted wonder is known for its spirited fight, providing thrill-seekers a year-round opportunity to test their angling skills.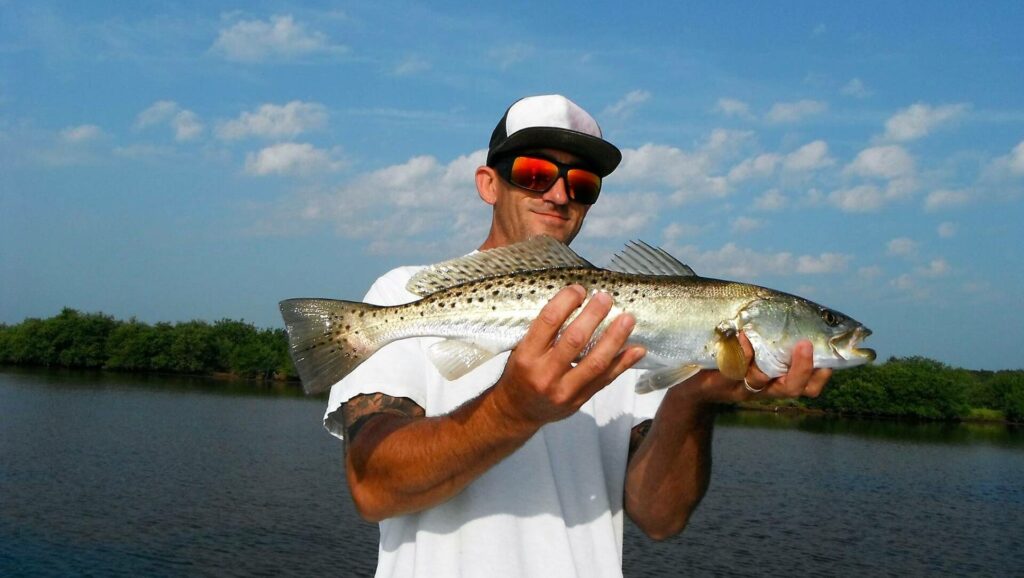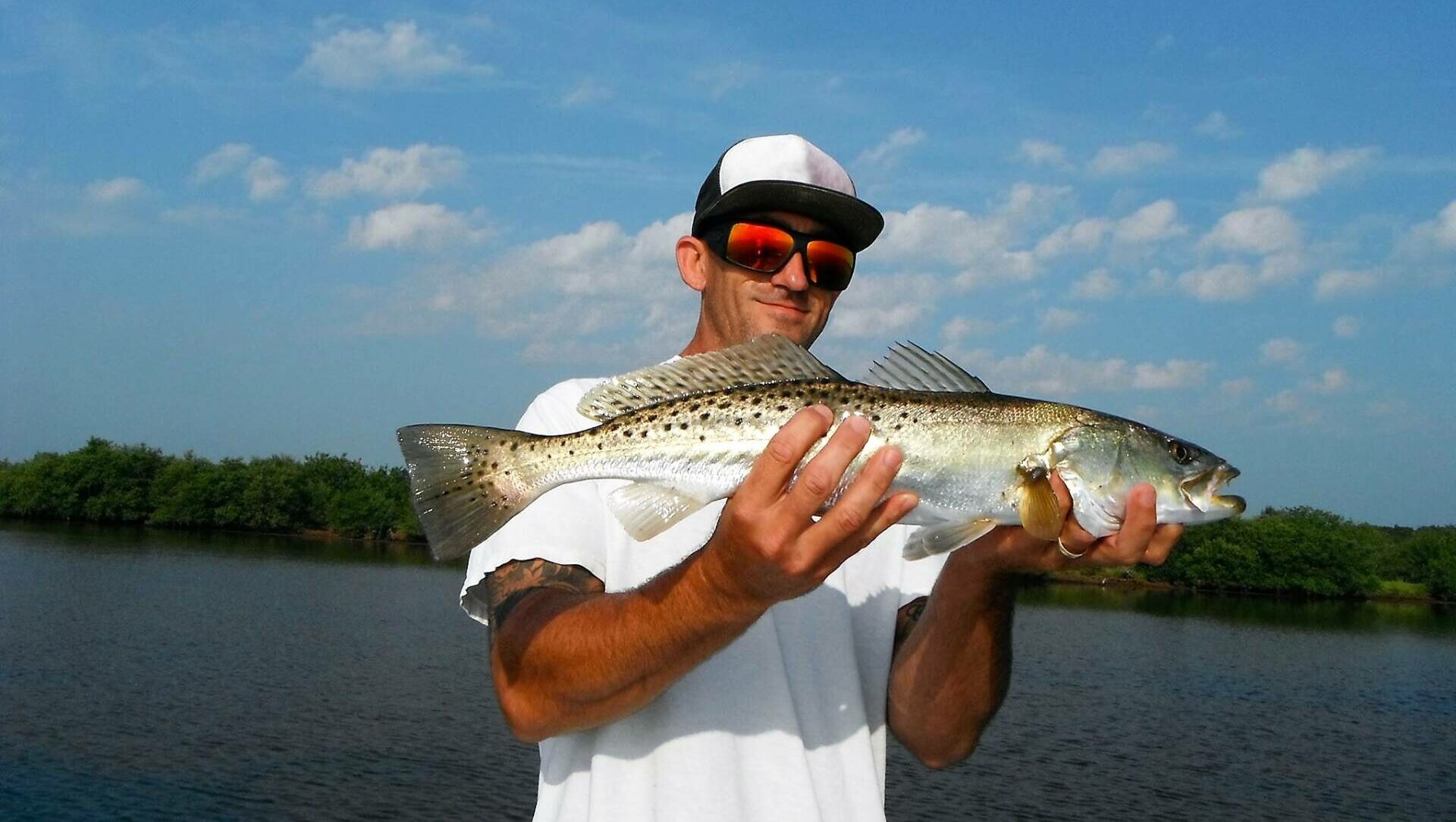 Luring the Spotted Sea Trout
What sets these fish apart? They're not picky about where they hang out. Whether you're exploring shallow flats or deeper channels, there's a good chance you'll find some Seatrout action. According to The Florida Fish and Wildlife Conservation Commission, using live shrimp or pinfish as bait can significantly up your odds of hooking one.
To get them biting, though, understanding their feeding patterns is vital. As dawn breaks and dusk falls, these creatures feed aggressively – making those times prime opportunities for an exhilarating battle on your line. Try casting near seagrass beds; this habitat tends to be a favorite hunting ground for hungry trout.
Fish at dawn or dusk when Seatrouts are most active.
Casting live baits such as shrimp near seagrass beds enhances success rates.
Understanding the species' preferred habitats aids in locating schools of fish.
Catch Your First (or Fiftieth) Seatrout With Bag 'em Fishing Charters!
If you've got your sights set on catching this saltwater prize but aren't sure how to start – don't sweat it! Here at Bag 'em Fishing Charters, we've got all the gear, bait, and know-how you'll need to reel in a big one. Our experienced crew is ready and waiting to guide you through every step of the process.
But our charters are about more than just landing a fish; they're also about fostering an appreciation for nature and teaching new fishing techniques. Every trip with us is an adventure where learning holds as much significance as reeling in your catch. As many of our clients can attest, these shared experiences have immeasurably enriched their fishing journey.
With its abundant waters teeming with Seatrout, Tampa Bay offers an unparalleled opportunity for both novices eager to learn the ropes and seasoned pros looking to refine their skills. Don't miss out on this fantastic experience – book your charter today!
To Summarize: 
Tampa Bay is a year-round hotspot for Seatrout fishing. These adaptable fish can be found in both shallow and deep waters. For the best chances of a catch, use live shrimp or pinfish and fish around dawn or dusk near seagrass beds. Bag 'em Fishing Charters provides the gear and guidance you'll need for a successful catch and aims to teach new fishing techniques and foster an appreciation for nature. Ideal for newcomers and seasoned anglers, don't miss the chance to book your charter and experience this fishing adventure.

Conclusion
And there we have it—a comprehensive look at the angling paradise of Tampa Bay. From its abundant waters teeming with a wide variety of fish to its breathtaking scenic beauty, Tampa Bay stands as a global attraction for fishing enthusiasts.
We delved deep into the unparalleled expertise of Captain Bucky Goldman, your go-to Tampa Bay Fishing Guide, who brings a lifetime of experience and deep-rooted passion to Bag 'em Fishing Charters. It's not just about landing a Redfish or Snook; every expedition under Captain Bucky's guidance is tailored to offer a thrilling, educational experience enriched by the Captain's extensive knowledge of the local marine environment.
We've covered key tactics for targeting not only the Big Four—Redfish, Snook, Seatrout, and Tarpon—but also introduced you to an expanded list of other engaging species that frequent these waters. With Bag 'em Fishing Charters, you can pursue these spirited fish all year round.
So what are you waiting for? Grab your fishing gear and prepare to experience first-hand the wonder and excitement that await in the clear, rich waters of Tampa Bay. With Bag 'em Fishing Charters, every trip is a new chapter in your angling story, woven amidst the natural splendor of one of the world's premier fishing destinations. Book your trip today!