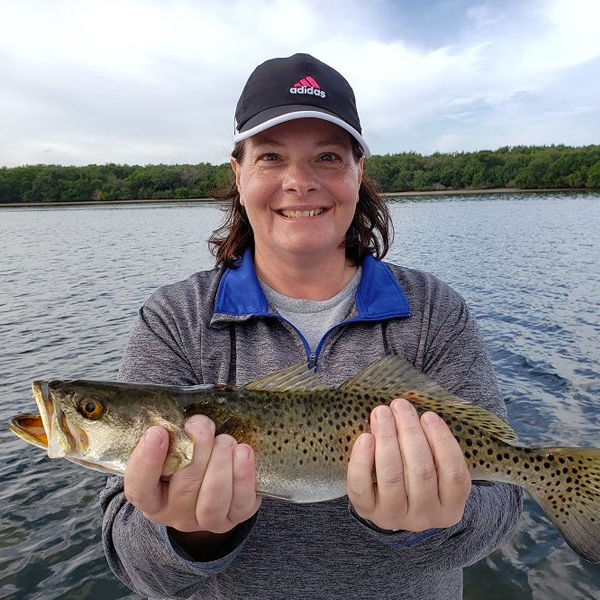 Ready To Fish
Tampa Like A Pro?
There are many days where artificial lures work best. No need to hunt for bait –  just the right lures, techniques, and a pro local guide are all that is required to fish the area like a pro.
FISHING TAMPA WITH ARTIFICIAL LURES
Tampa Bay is home to hundreds of excellent guides, but one thing I noticed when I came over here to Tampa, is that there are not a lot of artificial guides. In fact, I can only name a few. Now every guide here claims that they can use artificial, but using artificial and being successful are two totally different things. Don't get me wrong, I will use live bait when needed. However, I have been fishing artificial lures since I was a kid. That's well over 30 years of artificial experience from freshwater to saltwater. Tampa bay can be very productive using artificial lures and it can also be very difficult. Most guides for the better part of the last 25 years and more have been slinging white bait. Chumming the water with an over abundance of wounded bait fish. A lot of these fish are now trained for an easy meal and can make some fish too picky to even look at an artificial. I have been very successful with lures since coming over here to Tampa Bay. The trick is finding the fish that are not overly pressured. With all that being said I would like to go over some of my favorite go-to fishing lures.
The D.O.A. fishing lures products are something I have been using for years. D.O.A offers a wide variety of baits from shrimp and crabs, to swim baits, and now even snakes. The versatility of D.O.A.'s products leave you with so many options and colors that the hardest part is choosing what you want to fish with. I and particularly fond of the C.A.L. (Catch Anything Lures) Series.
The 3" C.A.L. Shad Tail is my number one go to lure. With around 60 different colors to choose from the Shad Tail is a very effective bait. It can be fished a variety of different ways. I typically rig the bait with a ¼ oz short shank jig head usually in Chartreuse color. I will change the weight of the head depending on the current and the depth at which I am targeting fish. The Shad Tail is a great search bait as you can cast them a mile and fish them in heavy winds. A straight reel with little bumps is highly effective as well as a typical jigging retrieve where you are bouncing it off the bottom. A lot of time the fish are zeroing in on the puffs of sand and vibrations the lure is giving off. Some of my favorite colors are the 419 Green back, 418 melon back, 309 Glow/gold rush belly, 441 Figi Chix, and the 406 Arkansas Glow.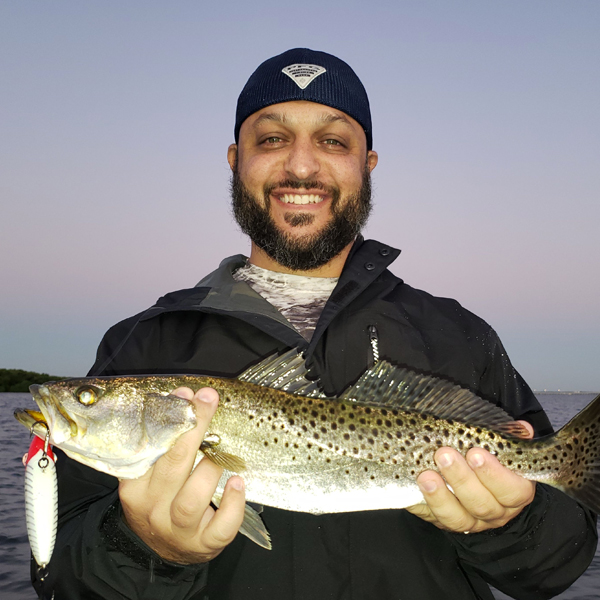 The D.O.A Shrimp is a lure that I have been using since the 90s. I have caught more snook, redfish and trout on these shrimp that I could possibly even count. The 3" and 4" shrimp are highly effective and easily fished. Unlike most lures that I tie with a loop knot, I like to use a straight knot, like the uni-knot, when rigging D.O.A. shrimp. I don't want the extra action that a loop knot provides. Why? Shrimp swim in a direct path. Shrimp don't wobble from side to side or dart back and forth. The D.O.A shrimp are great for pitching under docks and mangroves, as they are easily skipped off the surface of the water. The D.O.A. shrimp are excellent for sight casting tailing redfish as they don't make a loud splash when entering the water and can almost be left completely still. I like to super glue the hooks in place. This allows me to be able to cast much further without having the hook slide up the bait and create spin in the air and when retrieving. It allows me to catch more fish on just one lure before the plastic gives up. D.O.A. also makes another shrimp I use that is shorter and faster sinking. That is the 2.75" shrimp. This is a smaller profile bait and is excellent for triple tail and fish hiding in deeper water.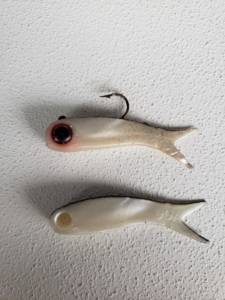 D.O.A. also makes two other baits that I use a lot especially when it comes to snook and tarpon. That is the D.O.A. TerrorEyz and the Bait Buster. The TerrorEyz is a great bait in that it has a lot of darting action. It is designed to set horizontally and holds true in a strong current. These baits come in multiple sizes and with different weights. They hook set ratio is very high and it has become one of my favorite when targeting smaller tarpon.
The D.O.A. fishing lures products are something I have been using for years. D.O.A offers a wide variety of baits from shrimp and crabs, to swim baits, and now even snakes. The versatility of D.O.A.'s products leave you with so many options and colors that the hardest part is choosing what you want to fish with. I and particularly fond of the C.A.L. (Catch Anything Lures) Series.
The D.O.A. Bait Buster comes in three different styles. The shallow runner and the deep runner are both 5/8 oz., but the shallow runner has the line entry in front of the bait where the deep runner is on the top of the head. The deep runner keeps the bait sub surface and is great for bouncing off the bottom. The third is the trolling version that is 1 oz and is best for water deeper than 4 or 5 feet. The Bait Buster is a highly effective bait where there is plenty of finger mullet and smaller bait fish around.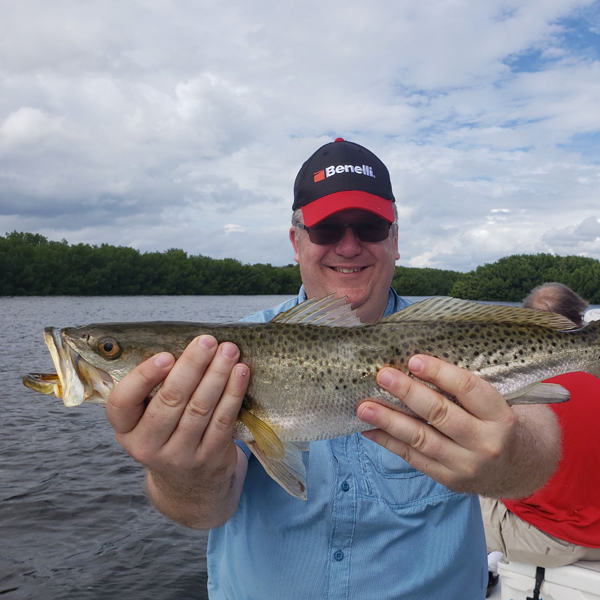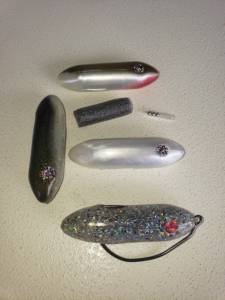 D.O.A. also makes a weed-less soft-plastic top water bait called the PT-7! This is a walk the dog type top water equipped with a 7/0 hook as well as rattles. This lure is amazing in that you can actually walk the dog on top of weeds, lily pads, and under the over hanging mangroves without having to worry about the lure fouling up. Did I mention that it's a soft plastic lure! It coves in a dozen different colors and absolutely casts like a missile. You'd be amazed at how far this bait actually travels!
The new and most exciting bait that D.O.A. has to offer is the Sna-Koil. This soft plastic worm like lure is shot in a coil, and when the bait is left undisturbed the bail will coil back up. Fish can't resist this lure. I have had excellent result when bass fishing as you can imagine, but the greatest part is their effectiveness on redfish and trout. The redfish absolutely clobber this bait especially when the are openly tailing on the flats. The BIG trout absolutely hammer this bait. I like to rig them 2 different ways. One way is to Texas rig the bait with a sliding bullet weight and a widegap worm hook. The second way is with a weighted twist lock hook. This Sna-Koil is also one of the best cobia baits I have ever thrown. Vary rarely do I get a refusal from a cobia. I like to right the bait with a bigger and heavier twist lock hook like the Owner Beast Hooks.
Now one of the most effective baits has to be a spoon. Redfish can't resist the flash and wobble of good spoon. One of my favorites is the Johnson Silver Minnow in Gold color. Typically, I only use a ¼ oz or ½ oz. The Johnson Silver Minnow has been around since 1923 and is still one of the most effective bait for multiple species that you can have. I usually rig the spoon with just a loop knot, I find that a swivel is not needed. Spoons are meant to wobble in the water. They rotate one way and then rotate back the other direction. They only times spoons spin around is when they are fouled hooked, snagged on some weeds, the weed guard is out of place, or reeled too fast. Yes, you will encounter some line twisting, but I find its really not that much to have to use a swivel to combat it! Another great line of spoons are the aqua dream spoons. They come in a wide variety of colors and sizes as well as natural looking bait designs like a pinfish or mullet. (pic)
The other brand of lures I use comes from the L&S Bait Company. They produce lures like MirrOlure and the Paul Brown's Original Series. L & S also makes Iland Lures for offshore trolling as will as Tidal Surge Lures. Let's talk about the MirrOlures that I like to use.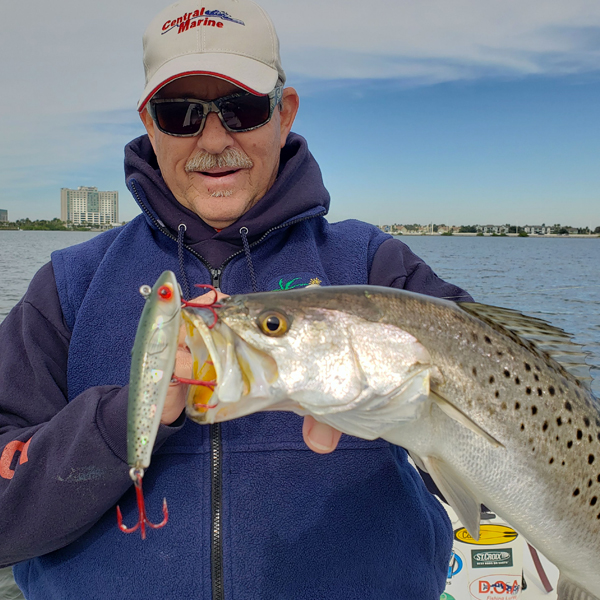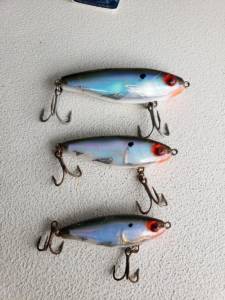 The MirrOdine has to be one of my favorite lures to use. These lures come in a variety of sizes from the 17MR to the XXL 37MR. I typically use the 17MR and 27MR sizes. The MirrOdines are a suspending twitch bait with a wide-body profile and realistic baitfish patterns. All baits have "fish-calling" rattles and natural 3D eyes. These baits dart from side to side with a twitching retrieve mimicking a wounded bait fish. I like to fish them with a twitch, twitch, pause motion. They come in a wide variety of colors and patterns. They also have a broken glass series, and my new favorite the C-Eye Skin Series, that comes in a mullet, pinfish and pilchard patterns. These lures are the CS17MR and CS27MR. The normal 17MR and 27MR colors I like are 11-Red Head/White Back and Belly, 18- Green Back/White Belly. They also have a few customized colors that have some glow on the belly and back.
The MirrOglass has a smaller profile and resembles a glass minnow. Theses baits are an excellent choice when there is an abundance of glass minnow around. They come in two different sizes the 9MR and the 19MR. I usually fish these bait a little slower than the MirrOdines as they tend to break the surface if you work them to fast. This has been one of my best big trout lures certain times of the year.
MirrOlure has several top water lures. From the Pro Dog lures to the Catch 2000s you can't go wrong with one of these tied on. The one I use the most is the C-Eye Series Pro Dog Jr. These are the C85MR baits. This is a 4" hi-frequency bait that drives the fish crazy. I have caught fish on every color so it really just depends on what you like. I usually use the BNSB-Bone color, 11SB Redhead/White back, and the 21TR Black back, Pearl Belly, Silver luminescence. This bait looks like a baby trout. If I want to down size my lure I will throw the 75MR She Pup and 83MR She Dog. If you are looking for an even bigger bait, I like the 94MR Top Dog.
MirrOLure also make a wide variety of other hard baits and soft plastics like the Lil John that I will use from time to time. MirrOdine produce over 20 different baits meaning you can find almost everything you need with just one lure company.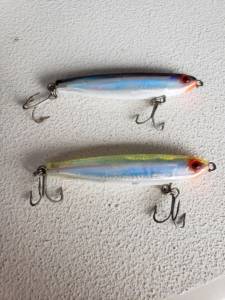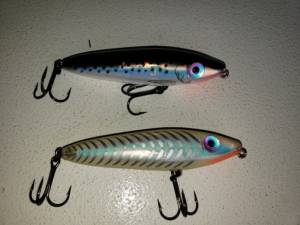 L&S also produce the Paul Brown Series. These are soft plastic lures that have two treble hooks connected by a wire in the middle of the bait. This allows these baits to have a lot of flexibility and tremendous action. I am a big fan of the Devil and Fat Boy lures. These baits are excellent trout lures and hold many records for both trout and redfish. I fish these just like the MirrOdines with a twitch, twitch, pause retrieve. The fish will smash the bait on the pause more often than naught. The also make a soft-dine and a Soft-dog top water as well as a few other baits.
I always have these lures on me at all times, ready for whatever opportunities presents itself. I pride myself on fishing artificial %95 of the time, and I hope you get as much of a thrill fooling big fish that I do! If you would like to learn how to fish with some of these lures, or you already know how and just want the challenge and excitement of fishing artificial. Then give me a call and book your Tampa Bay artificial fishing charter today. Capt. Bucky Goldman 813-358-6046 or 407-977-7650