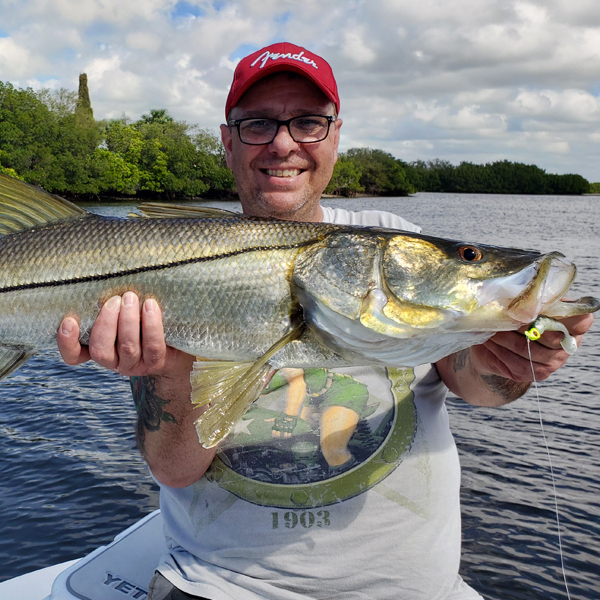 Snook are one of the most sought after game fish in Florida. They are renown for their amazing fighting ability. They pull hard, make long runs, jumps, and display an amazing ability to throw the hook with their incredible head shakes, or drag you into structure and bust you off. They are probably one of the smartest fish and can frustrate even the most experienced anglers. I think of snook as glorified large mouth bass! They are also well known for their incredible table fare, however I strongly advocate catch and release.
Snook season is closed for most of the year. They are open March and April, as well as September thru November. A slot size snook ranges from 28″ to 33″. You are allowed one per person per day. The guides or crews limit do not count. Snook can only be kept if they are caught on a hook and line. I strongly advocate for catch and release. In 2010 the state of Florida had a record cold snap that wiped out 60% of the snook population. Snook are highly sensitive to cold water and can easily succumb to temperature in the 40's. Since the freeze of 2010 the snook population has made an amazing recovery.
Snook are found from Central Florida and south throughout the Gulf of Mexico, usually an inshore species but have been known to habitat near shore reefs especially during their spawn. They can typically be found in costal or brackish waters. They are common along mangrove shorelines, along seawalls and under docks in canals, off the beaches and passes or stacked up under bridges. They congregate in large school during the summer months to spawn usually in the deep passes and inlets. Snook will orientate themselves into the current waiting for something to swim by.
Snook feed on almost anything from bait fish to crustaceans. Snook will feed on mullet, pilchards, mud minnows, pinfish, grunts, shrimp, crabs, and almost anything that presents themselves as an easy target. I have even seen a large snook eat a baby duck, 10 plus inch mullet and ladyfish, as well as had them try to steal small trout off my line. Snook will also readily go for artificial bait. My favorite way to catch them is on a top water lure such as a super spook or any other walk-the-dog type top water lure. One of my other go to baits is a DOA shrimp. They are east to use as well as easy to skip under docks or over hanging mangroves. Snook will also eat a cut bait on the bottom.
Like tarpon fishing, snook fishing in Florida is not for the faint-hearted. There is no question that once you have a snook on the line, you're in for an amazing battle and a memory that will last a life time.
Give us a call or text us at 407-977-7650 to book your trip today. You can also fill out one of the contact forms, and I will get back to you as soon as possible.