Last Updated on December 13, 2022 by Eric
Are you interested in experiencing what inshore fishing in Tampa Bay has to offer? With its lush salt marshes, vibrant estuaries, and countless reefs and shipwrecks, it's no wonder that many anglers consider this region one of the best places in the world for inshore fishing. On any given day, you could find scores of Redfish tailing near sand bars or Trout blasting bait near mangrove shorelines. Let's go over the top seven fish to catch in Tampa Bay.
Sheepshead
Sheepshead are a species you should add to your fishing list. With black and white striped coloring and a set of human-like teeth, it's no wonder these fish have earned their popularity among anglers. Not only are Sheepsheads tasty, but catching them is a challenge in itself! These intelligent creatures take an extra careful look at the baiting setup and will reject anything that looks peculiar or out of the ordinary. To successfully catch these fish, anglers must be patient and have a silent approach to targeting them.
Mangrove Snapper
Mangrove snapper, also known as gray snapper or simply mango, can be found everywhere in Florida waters. Whether you're fishing mangroves, inlets, bridges, docks, grass flats, or inshore reefs – these savvy little guys are there! Not only are they exciting to target and put up an intense fight for their size, but these babies are delicious, too – making them that much more tempting to take home for dinner! The mangrove snapper is part of the larger snapper family that tends to do well in many habitats around Florida.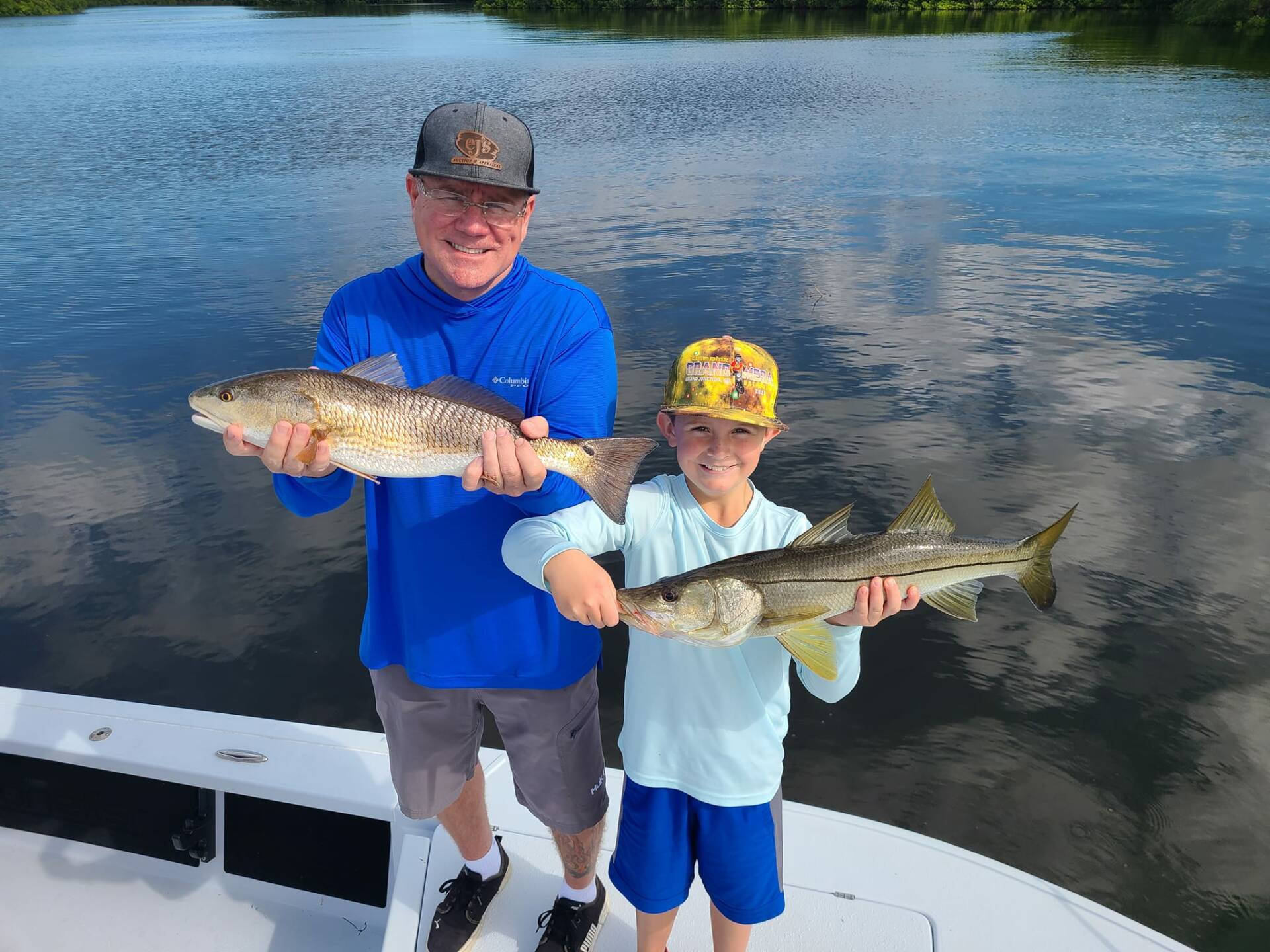 Spanish Mackerel
If you're looking for an incredible fishing experience, you'd be remiss to skip an opportunity to catch Spanish Mackerel. These migratory fish can be found in warm waters worldwide, and they offer anglers the challenge of a lifetime! Not only do they have a unique look with a slim body, compressed and torpedo-shaped with a large, deeply forked first dorsal fin – but they also put up quite the fight. Trust me, Spanish Mackerel will not disappoint.
Seatrout
Trout in Tampa Bay is like no other. An easily targeted species that are available in coastal waters all over the southern US, seatrout is an epic gamefish worth the fight. They're known to grow over 27″ and put up an intense battle when hooked, which for the bait-hungry fish, is a likely story. Marked by their silver bodies and black speckled dots, spotted seatrout is an easy-to-identify fish. They are also well known to taste pretty good too!
Tarpon
If you're looking for the ultimate tarpon fishing experience, look no further than Tampa Bay! Tarpon is a real prize catch. Notoriously hard to hook due to their armor plate jaws and impressive display of strength during fights, these beasts will surely test your skills if you're brave enough to take 'em on.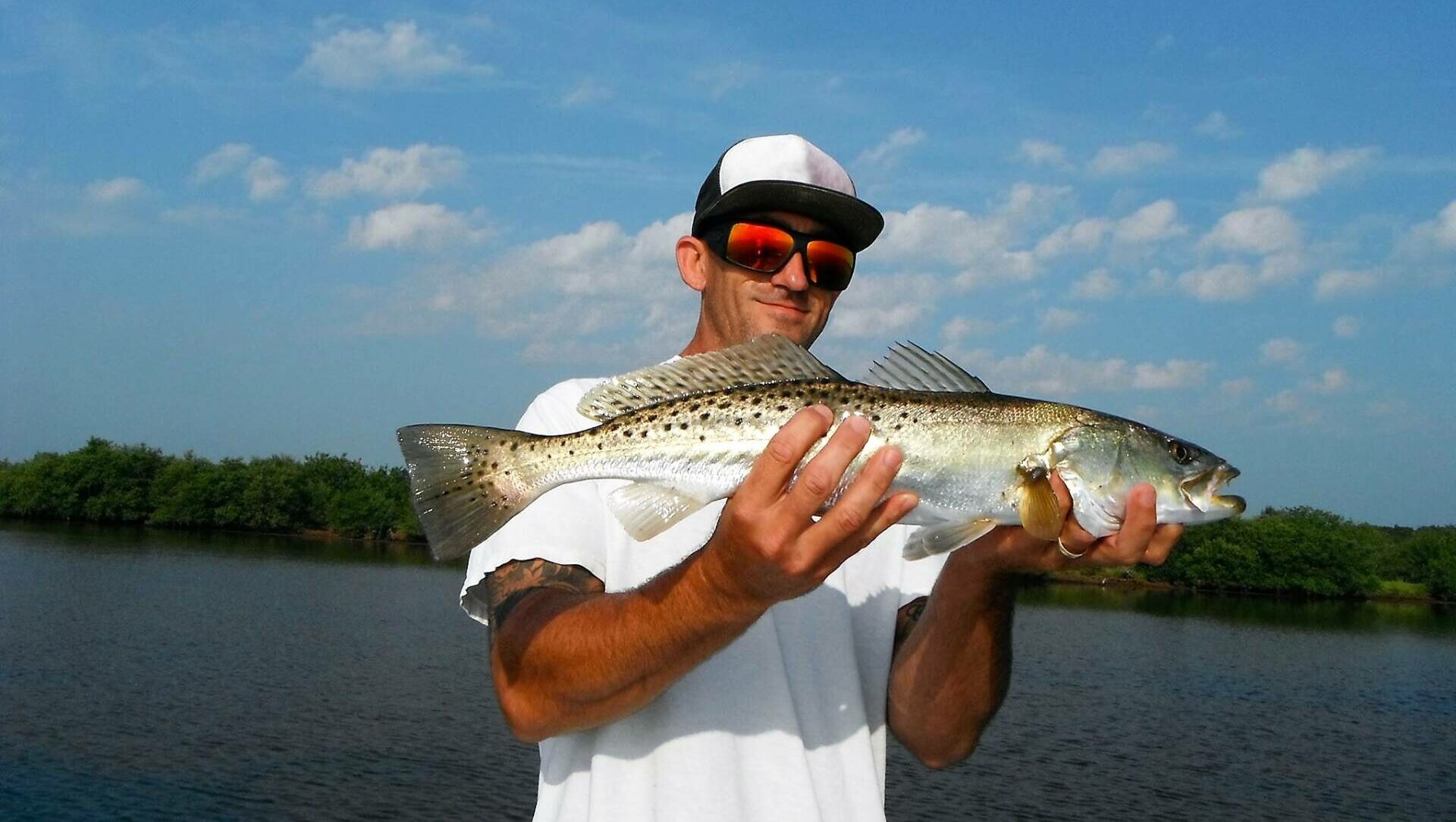 Snook
Snook fishing is an incredible sport and offers one of the most thrilling experiences on the flats. Known for their distinct silver bodies and black stripes, Snook are powerful fighters who will often jump multiple times in an attempt to throw the lure or bait. Fortunately, they can be caught consistently throughout the year, apart from the coldest days.
Redfish
Redfish are one of the most well-known game fish not only in Florida but all over the South Eastern United States. The inshore adolescent reds are known for their great taste and put up quite a fight, but that doesn't compare to the fight of the adult bull redfish that come inshore to spawn in the fall. Redfish are excellent fighting fish that are available year-round!
Catch These and More
These aren't the only fish in Tampa Bay, not by far, but they're some of the most notable performers when it comes to fighting fish, but once you get the right ones, they're some of the best-tasting fish as well. If you're willing to see why these fish are some of the best for fishing in Tampa Bay, look no further than Bag'em Fishing charters; check our real-time availability and book your trip today!