Last Updated on November 21, 2022 by Eric
Snook are a prized gamefish found in many inshore waters throughout Florida. While snook can be caught year-round, the best time to target them is during the colder months when they move into deeper, warmer water. Let's discuss some tips to help you better target cold weather snook in Tampa Bay. So, if you're looking for a challenge this winter, consider targeting snook in Tampa Bay!
Wintertime Snook
As any fishing enthusiast knows, snook are not cold water-tolerant fish. As the water begins to cool in the fall, anglers must use various techniques to find warmer water where the fish will congregate. Winter can be a great time to fish for snook as long as you know where to look. One good place to start is near lights, which attract baitfish and predators. Another good option is to fish the edges of shadows, as this is where many snook will be hiding. In addition, many snook will seek refuge in wind-protected creeks, bays, and canals during winter. These areas are often warmer than other parts of the water, offering plenty of food for the fish. You can have a successful winter fishing season by knowing where to look.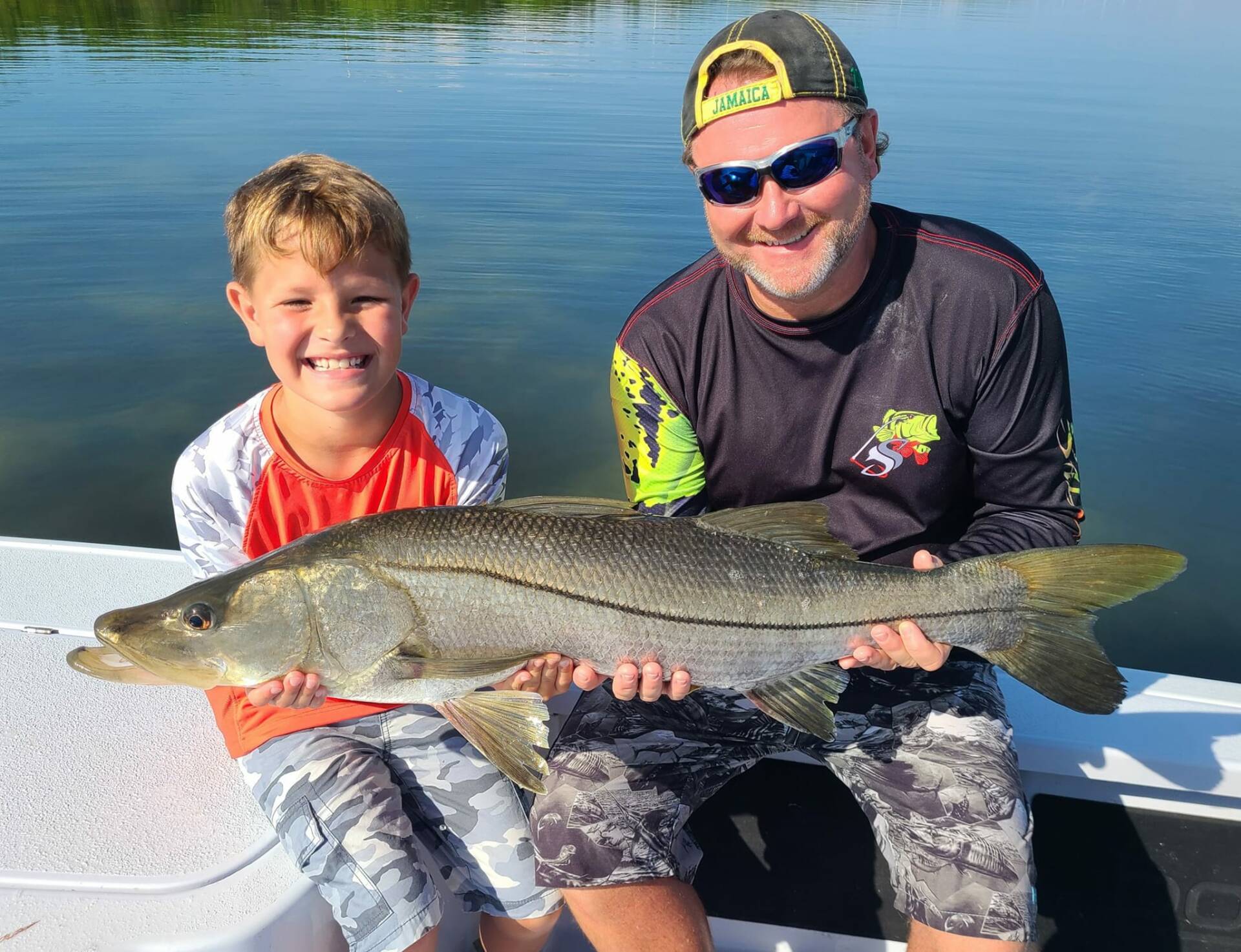 One of the most critical factors in finding snook can be accomplished by targeting warm water discharges from power plants or finding shallow, slow-moving water heated by the sun. Another common technique is fishing in residential canals with less water flow. Dead-ended canals can also be productive, as the fish can access structures and warmer water. Additionally, fishing in freshwater rivers that feed into bays can be effective, particularly near structures like trees and points with little current. By being aware of these techniques, anglers can increase their chances of success when targeting snook in cooler conditions.
Techniques for Wintertime Snook
Any angler worth their salt knows that the type of rod, reel, line, and leader used can make or break a fishing trip. This is especially true when targeting snook, as these fish are notorious for their sharp gill plates and the structures they often inhabit. Anglers must step up their rig with a heavier fluorocarbon leader to avoid getting cut off.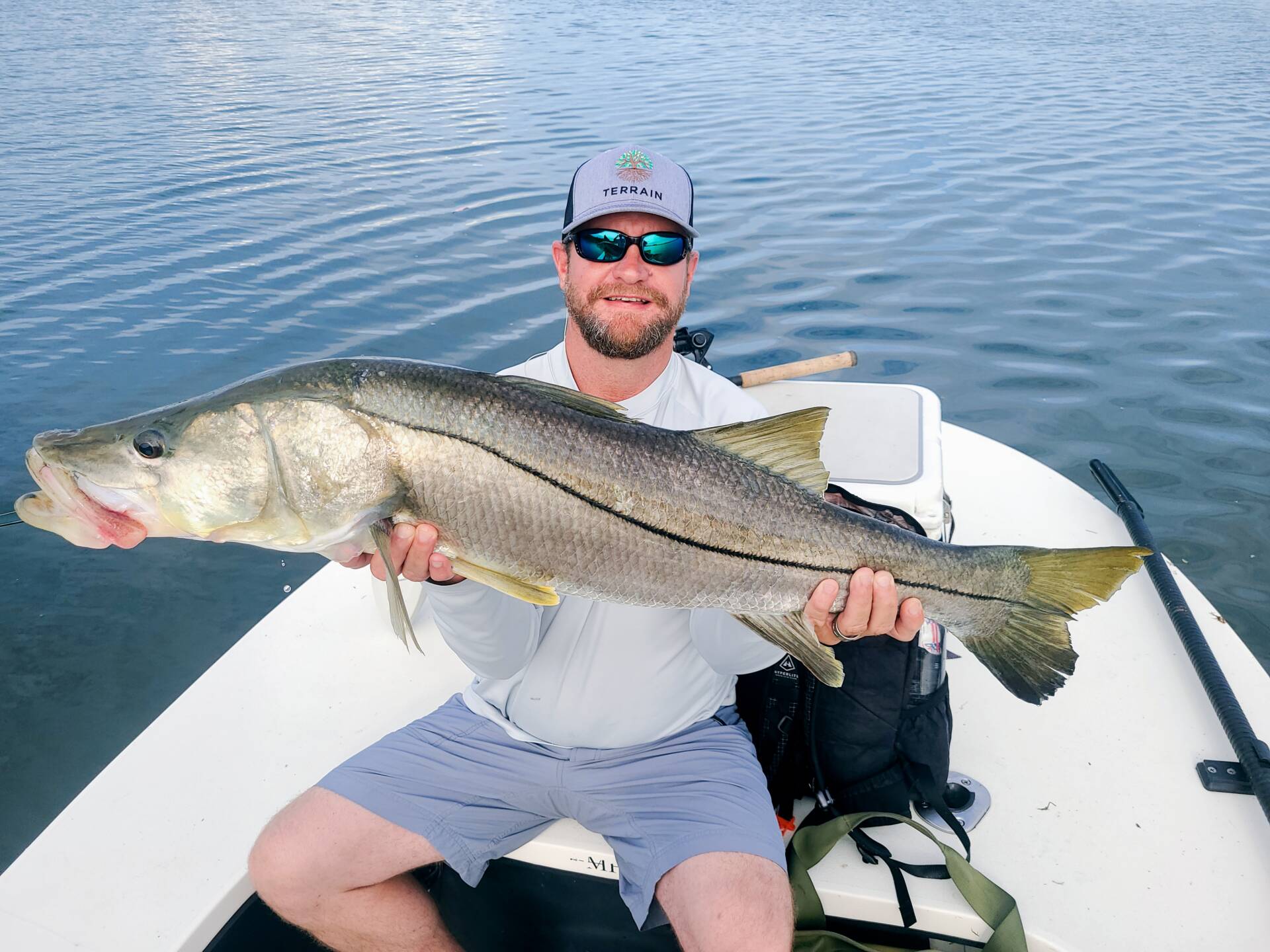 The fish's size will dictate the rig's weight, with light to medium weights sufficient for a 20-inch snook in most circumstances. However, 35-plus inch snook near heavy structures will require a much heavier rig to land the fish successfully. With the right equipment, any angler can enjoy a successful day on the water targeting snook.
Get Out There and Catch Some Snook
Wintertime fishing for snook can be excellent if you know where to go. These fish are known for hating the cold, so good thing Florida is a tropical paradise. Captain Bucky has you covered if you're looking to catch one of these backcountry monsters. The area is teeming with fish of all kinds, and with Captain Bucky at your side, you're guaranteed a successful day on the water. Captain Bucky is a local fishing pro who knows all the best spots in the area. He'll ensure you have everything you need to reel in a big one. Check out our real-time availability and reserve your charter today! You won't be disappointed!