Last Updated on February 25, 2022 by Eric
As the springtime warm weather and longer sunny days set into the Tampa Bay area, water temperatures will rapidly begin to increase. This seasonal pattern will trigger redfish activity to increase on the vast grass flats in and around Tampa Bay.  The warming waters will also bring an increased quantity of baitfish to the area, which will also contribute to firing up the fish activity across the area.
There are many options to target redfish on the flats.
First, you want to find areas that tend to concentrate the fish to focus your efforts. This could be structures such as oyster bars, troughs, healthy seagrass, or bait activity. Additionally, you want to have tidal movement in the area.
A combination of these features will increase the likelihood of finding feeding redfish.
Once you identify a target area to fish, take time to observe the area, look for how the water moves, if there is any bait or fish activity in the water, and notice areas where predators could ambush prey. Once you get used to seeing the patterns you may also start to identify redfish to try sight casting.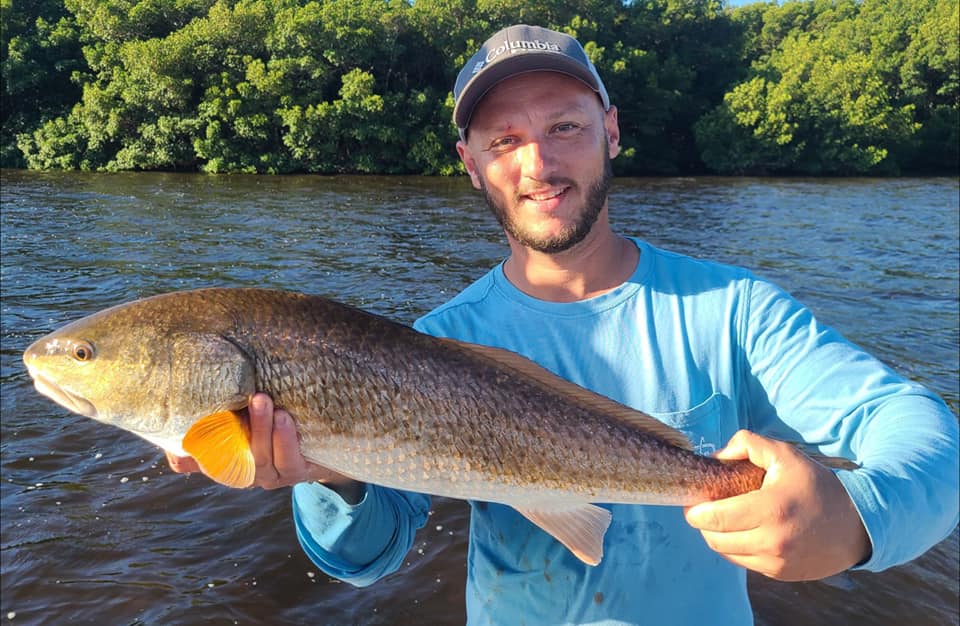 For gear, a medium-light to medium weight rod and a 2500 series reel should get the job done. Most anglers fish with 10-20 pound braided line and a 12-24 inch section of 20-pound fluorocarbon leader.
The best live bait will depend on what is available at the bait shop or your skills with a cast net, but shrimp or pinfish are effective for redfish. Often a good option is to freeline these live baits on small circle hooks, down current, to ambush points.
If you prefer using artificial lures, pick a lure that is easy to cast and retrieve, and is easy to impart good action that will attract the attention of predators. Some popular options are soft plastic paddle tails rigged weedless or slow suspending hard baits.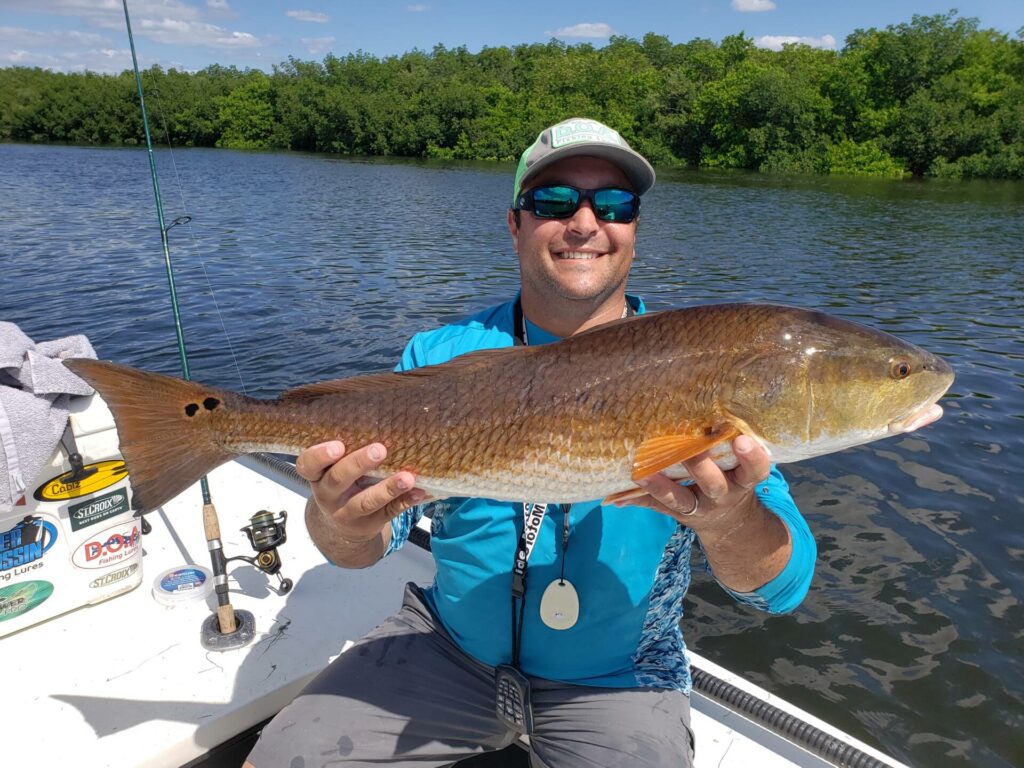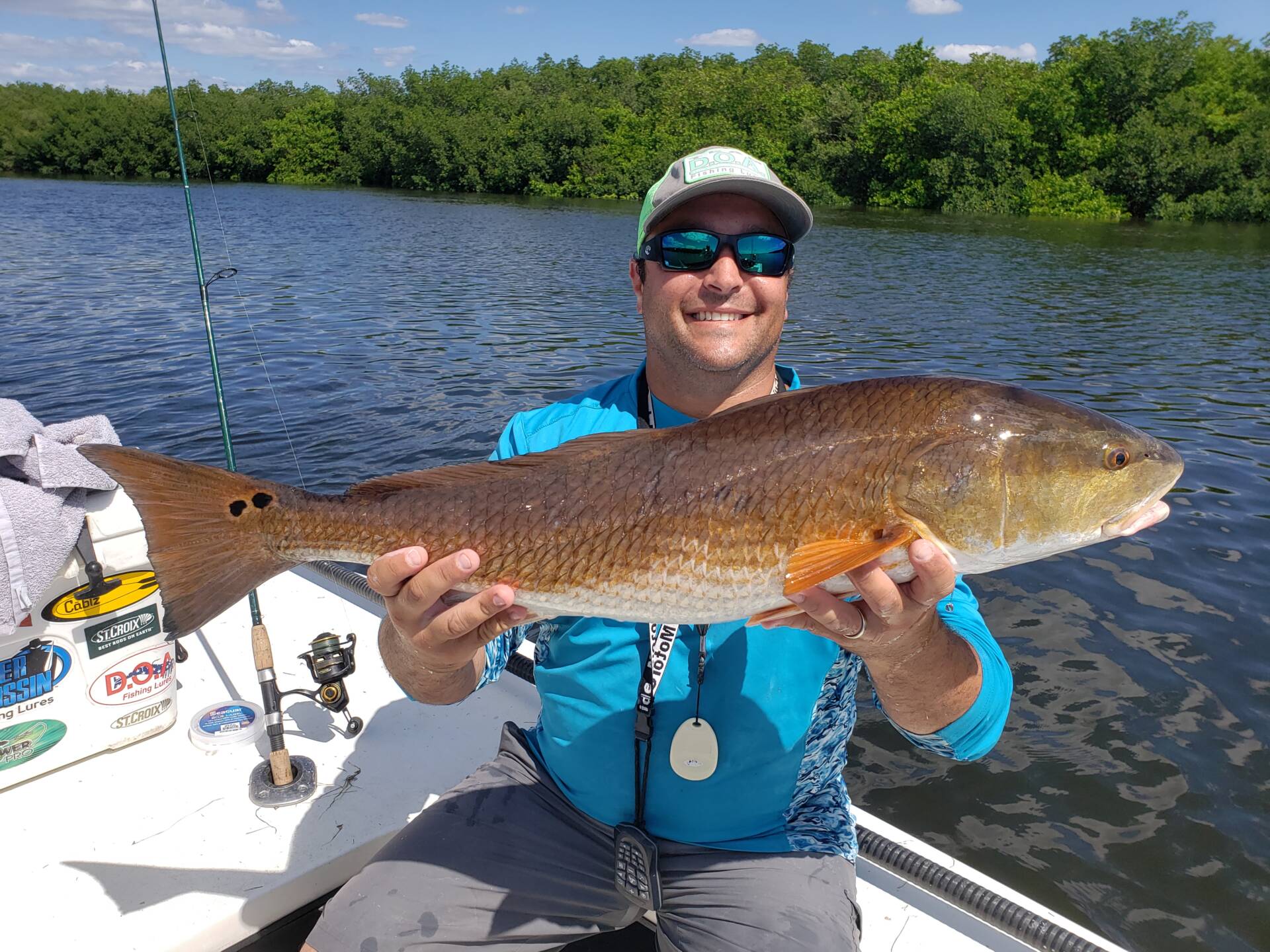 There are endless color combinations, one strategy is light water- light color and dark water-dark color to start with, we recommend trying several options to learn what colors work best for you on a given day.
To figure out an area, cast your lures throughout an area, making sure to hit transitions in the structure, shoreline, or bottom cover. Vary the speed and depth of the lure until you determine what works.
Another fantastically fun lure is a topwater plug, such as a Spook jr. Many anglers prefer using these lures in lower light conditions, around sunrise and sunset or overcast conditions, but they can be effective in other situations as well. Since redfish mouths are on the bottom of their head, their topwater strikes are usually impressive to see.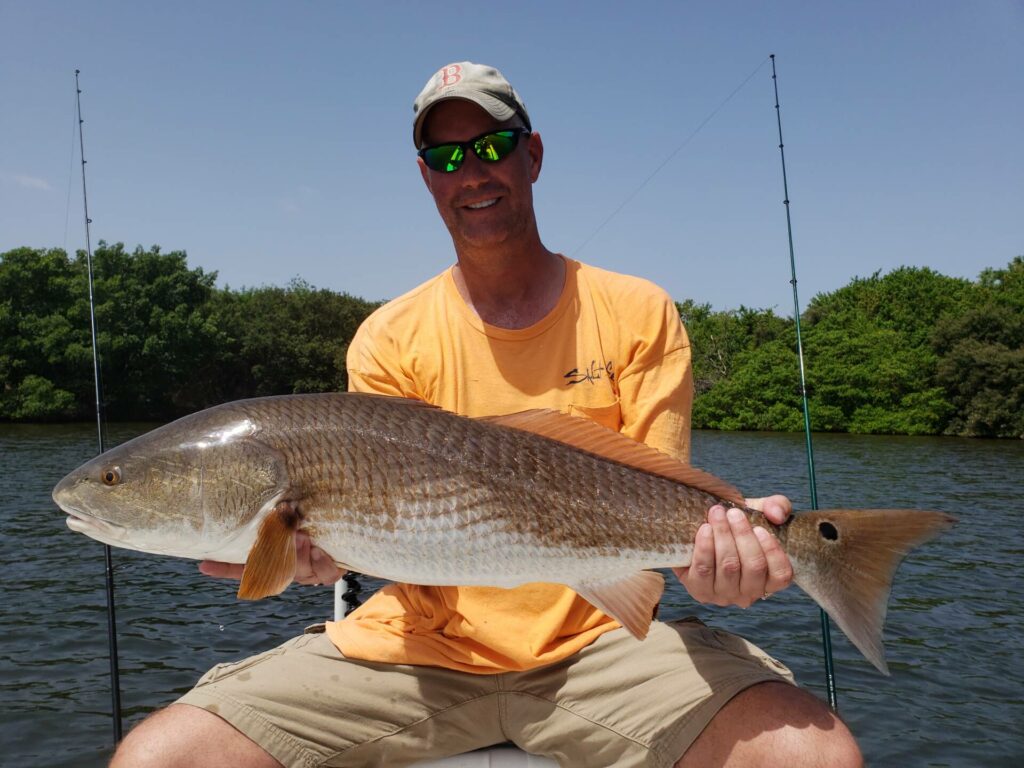 Springtime is many anglers' favorite time of year to target redfish. Reserve your fishing trip with Capt Bucky now to see why so many anglers come back year after year.