Last Updated on October 10, 2022 by Eric
Looking for a great fishing charter in Tampa Bay this October? You'll want to check out some of the best spots for redfish. These prized sport fish are worth targeting this time of year. Let a professional fisherman show you the ropes – they'll know just where to find these elusive fish. Get ready for some serious fun on the water!
Why Now
The redfish run is a yearly event that brings anglers from all over to Tampa Bay. The chance to hook into one of these prized fish is an opportunity many cannot resist. Whether you are a seasoned fisherman or just getting started, the redfish run is an event that should not be missed.
The excitement of the hunt, the anticipation of the bite, and the satisfaction of reeling in a big one make this time of year so memorable. So if you're looking for some adventure, head down to Tampa Bay and join in on the fun; you might just end up hooked for life.
Mullet Run
The fall redfish run is no myth. Not only do these fish gather and spawn in September, but it coincides with the fall mullet run, which lasts well into October. Millions of these silvery baitfish gang up, migrate south to Tampa Bay for the winter and get blasted by redfish for their effort. The fall redfish run is a fantastic spectacle and one that any severe fisherman should experience at least once.
The redfish are giant and plentiful during this time, and the mullet are also easy to catch, making for some great fishing action. So if you're looking to snag a big one this fall, head out to the coastal waters of Tampa Bay and take advantage of the redfish run.
Redfish Spawn
For fishermen, October is one of the best months to go redfish fishing in Tampa Bay, FL. This is in part due to the redfish spawn. Redfish of 34 inches and larger spawn every autumn, using those strong, incoming high tides of fall, aided sometimes by higher water from tropical storms or hurricanes. The super-high tides push fertilized eggs back into the marsh, where they develop and grow. So, if you're looking to snag a big one right now, you just might be in for a real treat.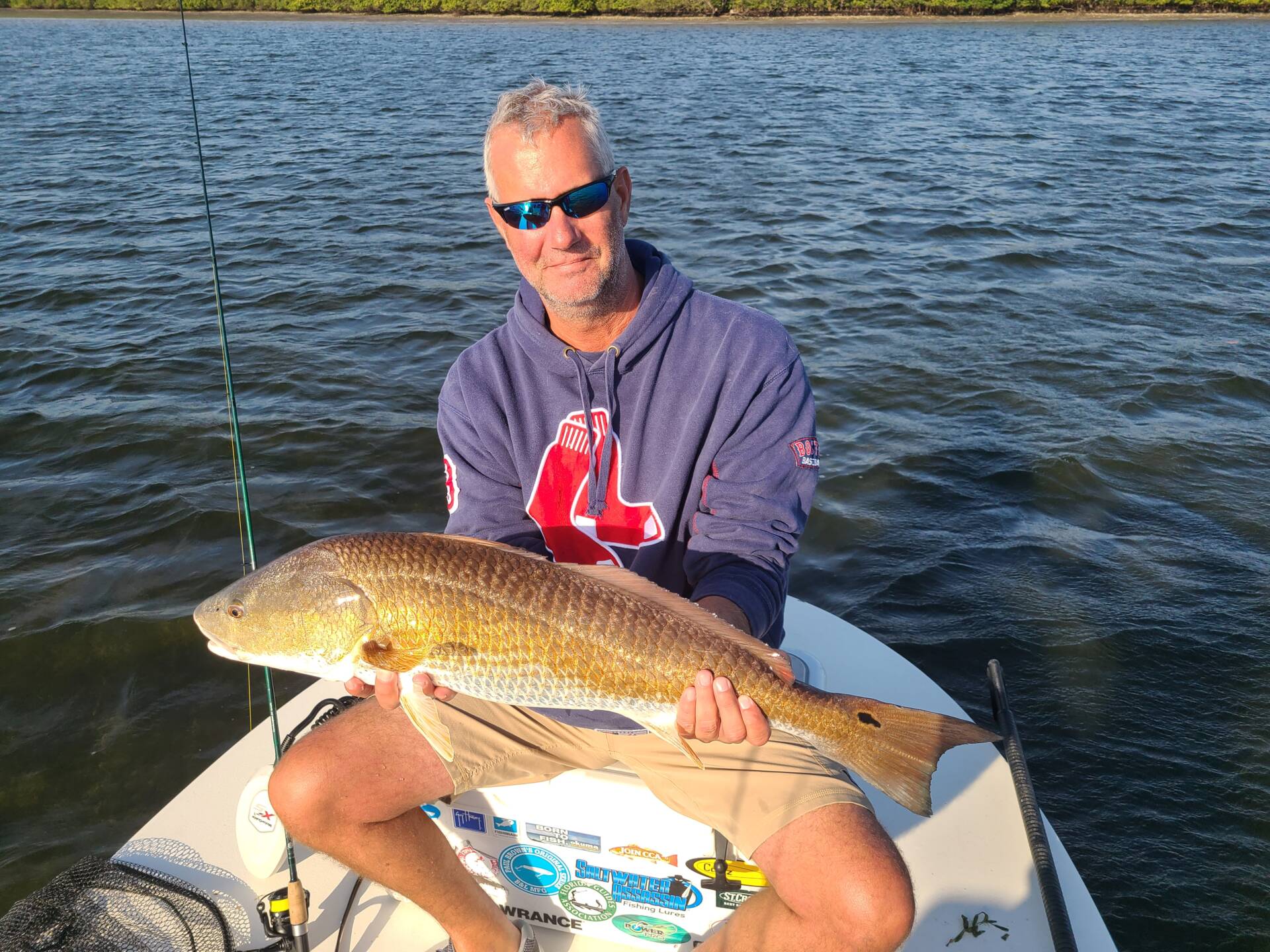 Your Charter for Tampa Bay
Having grown up in Florida, Captain Bucky Goldman is intimately familiar with the waterways of Tampa and Sarasota. For the past five years, he has guided fishermen in pursuit of giant redfish. Captain Bucky is a USCG-licensed and insured Florida fishing guide dedicated to providing a safe and enjoyable experience on the water.
He takes pride in his knowledge of the area and his ability to put his clients on the fish. Whether you're a seasoned angler or someone who has never wet a line, Captain Bucky will ensure you have a great time out on the water. So come down to Florida and let Captain Bucky show you what inshore fishing is all about! Book your trip today!