Last Updated on December 7, 2021 by Eric
There are several techniques that we use to increase the odds of catching quality snook in the winter. Snook are not cold water tolerant fish, so as the water cools we have to use a variety of options to find warmer water and capitalize on other key features of our waterways.
As always, if we are targeting snook, we need to step up our rod rigging with a heavier fluorocarbon leader to avoid getting cut off on their gill plates or the structure they may be around. The type of rod, reel, line, and leader is heavily dependent on the size of fish that we are targeting.
For example, if we expect to catch snook in the 20-inch range, a light to medium weight inshore rod, with a 2500 series reel, 10-15 lb braided line, and a 20 lb fluorocarbon leader should be sufficient for many circumstances. However, as the fish get bigger, each element of the rig needs to be increased as well, with large 35 plus inch snook near heavy structure requiring much heavier rods, line, and leader to successfully land the fish.
Finding warm water is key to finding these fish. This can be as obvious as targeting warm water discharges from power plants, or a subtle as finding the shallow slow-moving water in direct sun that retains heat the longest during the day.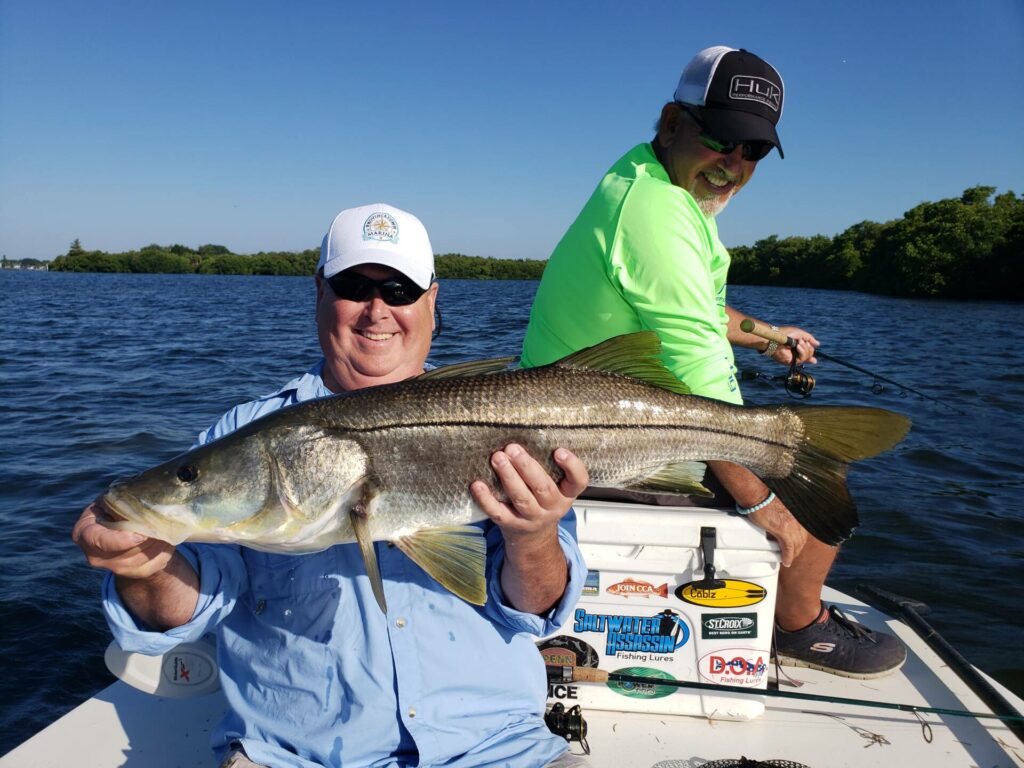 A common technique is finding residential canals, with less water flow, even dead-ended canals where the fish have structure and warmer water. Another technique is fishing up into freshwater rivers that feed the bays of the area, particularly near structures, trees, and points in areas of the waterway with the least current.
The most successful way to get snook to feed during these times is to offer them a preferred meal, that is live bait. There are several options for live bait, shrimp, pinfish, and greenbacks are among the most popular.
You may also choose freshwater baitfish like shiners if fishing in these areas. Free lining these baits near where the fish are lurking is the most reliable technique. For the die-hard artificial anglers, paddle tails, bucktail jigs, and artificial shrimp can also produce if presented to a hungry fish.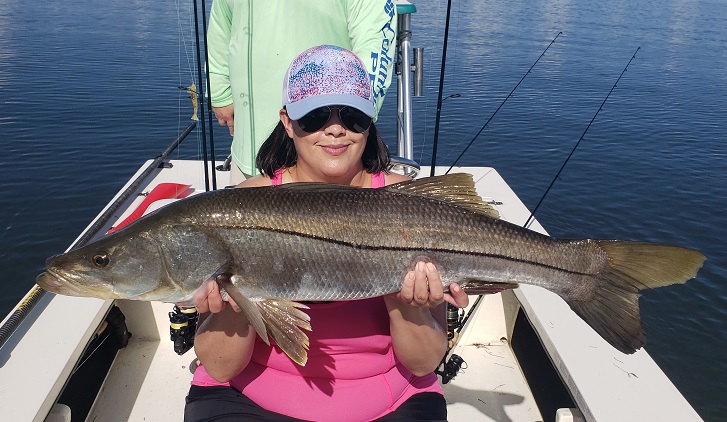 Finally, another technique that can also be successful in the winter is fishing lights from docks or other structures. These lights attract baitfish and predators alike. By fishing the edges of the shadows, you may also be able to get a hookup.
Join us on a charter and Capt Bucky can demonstrate our favorite techniques to catch snook in the colder months.