Last Updated on October 1, 2021 by Eric
Today is the first day of October, the beginning of Fall, and this month marks the start of great weather, awesome fishing, and reduced boat traffic in Tampa Bay.
While we look forward to catching a variety of fish species during this early part of the season, like redfish, we will dedicate this article to everyone's favorite inshore ambush predator – snook.
Fall Is Transitional
Fall, much like Spring, is a transitional season where we introduce new temps – in this case, Winter. While Spring may be introducing higher temps, the month of October is much like April when it comes to snook fishing (even though temps will eventually wind up on the cooler side). If you have ever fished for snook in the Spring in Tampa, then you are all set – it is nearly identical.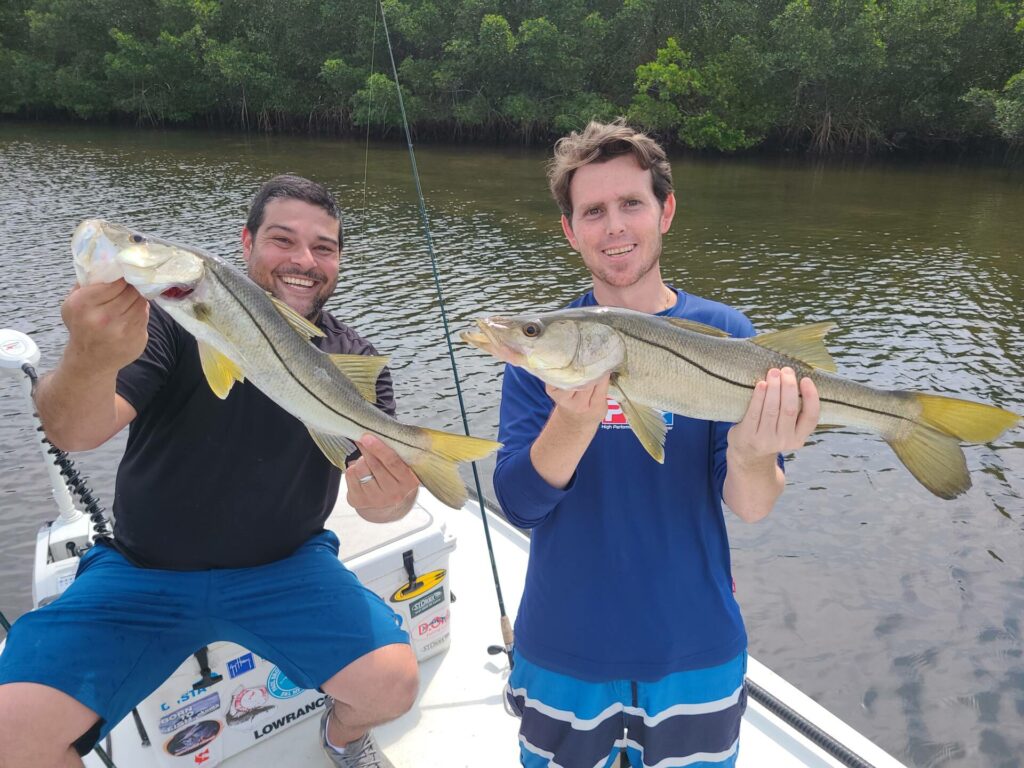 What we will be looking at is this reduction in water temps slowly creeping in during Fall. This is a slow process, but a few degrees will drop on the average right at the start. This process creates a shift in patterns for snook. That said, the action is just as good as any summer month with arguably better weather to do it in, snook will change how they hunt and where they hunt during this time of year.
What To Consider When Targeting Fall Snook
There are a few things to consider when targeting Fall snook that, when aligned, will make for some pretty epic days of fishing.
Size
If you have been fishing the area all summer, you might notice that snook get larger as the season moves on – namely in girth. This is because nearly all of summer is a non-stop feeding frenzy. In this, big female snook can be at their peak weight in Fall.
While harder to locate and, honestly, much more of the day will be spent catching average size snook, I mention this because you will want to make sure your setup will be able to handle a 20-40lb snook if the situation presents itself. Fall is generally when that happens, especially early on.
Tides
Tampa Bay is pretty awesome in the fact that regardless of what the tide is doing, there is usually a place to go and find fish. But, there are peak times of activity and these times can make for a much more refined and successful outing if followed. Active times are based around tidal movements. The best time to target a Fall snook is about 1 hour before peak high tide and the first couple hours of the outgoing tide.
Just remember, snook like to be downstream of the current, hidden in an ambush point, waiting for prey to come sweeping through. Use this knowledge to your advantage when setting up to fish a spot.
Structure
Structure is really a continuation of the current and ambush conversation. Regardless of the type of structure, do envision that a snook is downstream of the current, staged on the outside of some sort of chokepoint, and is looking directly into this current waiting for a snack to plow through. Whether using bait or lures, this is where you cast.
That said, here is a list of structures found in Tampa Bay that snook love to hide in:
Mangrove Root Systems
Breaks In Mangrove Islands (That are close together)
Navigation Channels (Including intercoastal waterways)
Bridge and Pier Pilings
Dock Lights (If fishing at night)
Food
Whereas species like redfish can start to transition out from baitfish to crustaceans, snook will generally stay on that diet if given the opportunity. The same can be said for Fall seatrout. BUT – you will also find success with baits like shrimp, including artificial ones like the DOA shrimp. In the Fall, I have completed several inshore slams with just a DOA shrimp.
Not saying to go do that, but you do have a pretty decent array of options when headed out. I've landed the same slam in the same season with mirrodine suspending twitch baits, to contrast.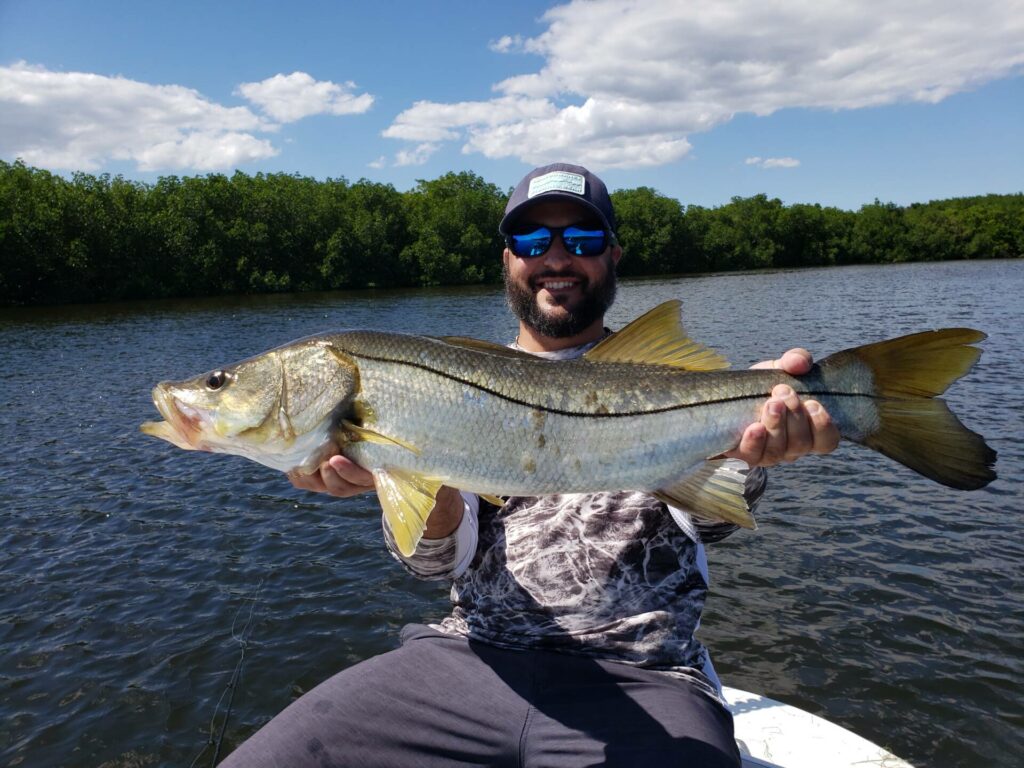 Fish Fall Snook With Bag'Em Fishing Charters
Captain Bucky here at Bag'Em Fishing Charters has been steadily taking clients out here at the start of the 2021 Fall season and it is proving to be a successful one. Great weather, reduced boat traffic, and completely awesome snook fishing.
This is a perfect time to come fish with us and experience some of the best fishing of the year, in Tampa Bay.
See: Rates & Reservations
Learn More: Inshore Fishing Charters
Ask The Captain A Question: Contact Us