Last Updated on September 20, 2021 by Eric
With Fall just around the corner, we take a quick look at what to expect in Tampa Bay for the 2021 season.
Fall Species In Tampa Bay
Tampa Bay is located in Florida and is home to temperate year-round waters. However, these subtle differences in temp that begin to occur during the fall months will affect what is biting and what they are feeding on.
Tarpon
You may find yourself with shots at the last of migratory summer tarpon very early on in the fall, but this will dwindle quickly. Resident tarpon will be hit or miss. This will really boil down to water temps and other environmental considerations, I wouldn't necessarily keep tarpon on your fall list for long.
Snook
Snook are also a fan of warm water, but they will hang out much longer than tarpon. It will usually take a pretty deep drop in temps to turn the bite off. If that does happen, this usually fires right back up as the day warms back up. Until those occurrences, snook fishing will be pretty awesome during the first half of fall.
Seatrout
Seatrout are a year-round species and the fall fishing for these guys will stay on point. Again, it will take some really cold temps to turn these guys off, but we do not expect any of that to occur anytime soon.
Redfish
Redfish are another year-round species but are easily a fall favorite. Taking on the nickname "flats pumpkins" just in time for October, the biggest change for this species during the fall is their diet.
While you will still be able to target them on baitfish early in the fall, this will switch up to crustaceans (shrimp, crabs) as the available prey in the area change for the season. One of the best parts of this is that they turn to bottom-feeding more often, which gives you a shot at spotting "tailers" in the shallow waters along the Tampa flats.
Other Species
Some other species to look out for include:
Cobia (early fall)
Black Drum (early fall)
Flounder
Inshore Grouper
Spanish Mackerel
Lane & Mangrove Snapper
Permit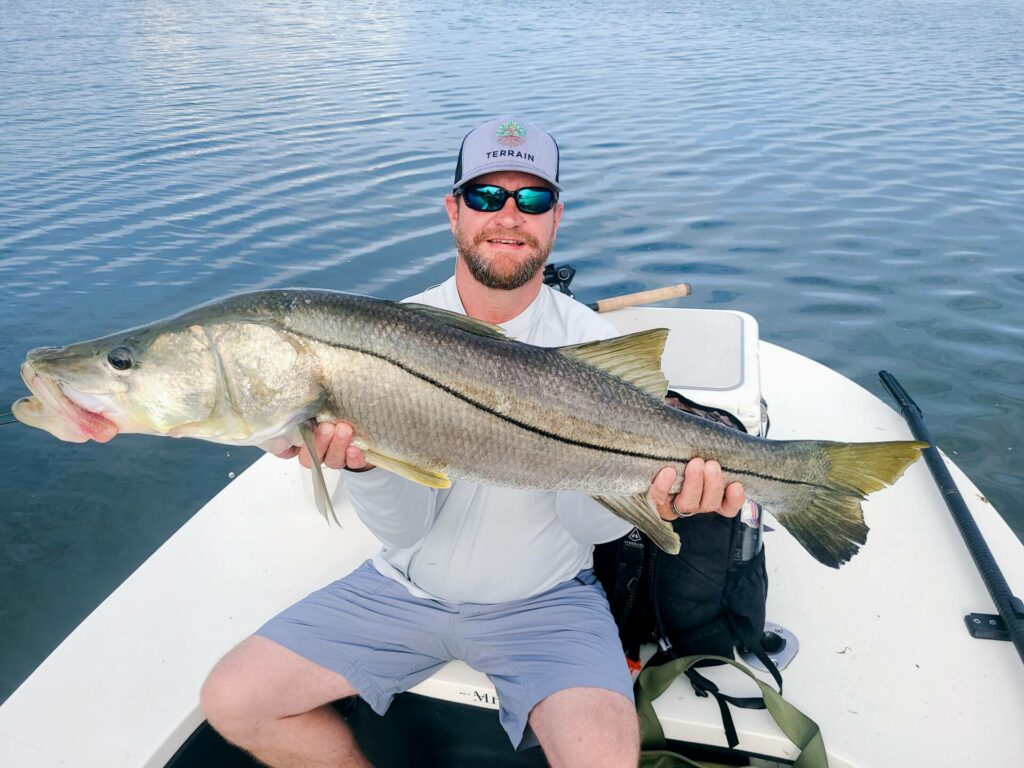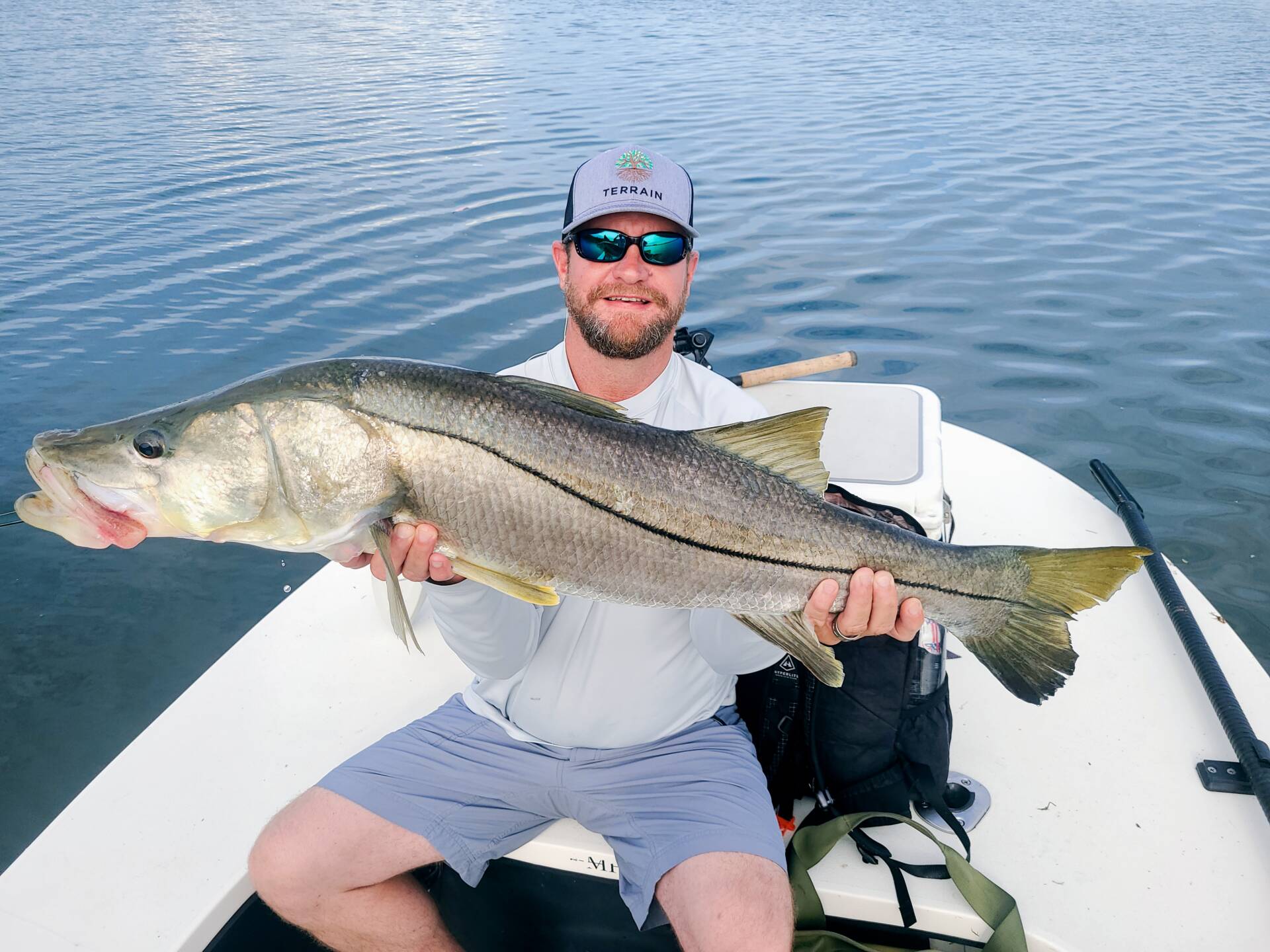 Best Bets For Each Fall Month
Tampa Bay is a massive estuary system that is home to hundreds of species of fish and can offer surprises on any given day. I mention this because below I will go over some popular choices and the average months to target them, but this is far from all-inclusive information. Temps, baitfish migration and more all dictate how and when the fish move.
September
Tarpon
Snook
Redfish
Seatrout
Cobia
Black Drum
Flounder
Spanish Mackerel
Goliath Grouper
Lane Snapper
Mangrove Snapper
Sheepshead
October
Snook
Cobia
Seatrout
Redfish
Black Drum
Flounder
Spanish Mackerel
Goliath Grouper
Lane Snapper
Mangrove Snapper
Permit
Sheepshead
November
Flounder
Redfish
Seatrout
Black Grouper
Gag Grouper
Red Grouper
Scamp Grouper
Permit
Sheepshead
Live Bait and Lure Choices For Fall
To take a saying from the fly fishing world, "match the hatch" is the sort of approach you will want to take here. While we are not tying seasonal flies for river trout, we are going to pay attention to what baitfish are in the area and when the food options begin changing during this transition season.
If baitfish are still out swarming around, then you know this will be a safe bet. Alongside, live shrimp is another option that works during any season.
Using cut or frozen bait can be fine throughout fall, because even as the fish begin to slow their aggression towards feeding – this is an easy meal. However, this is also when you wind up with a lot of unwanted bycatch if blind casting unfamiliar areas.
Using lures is where things get more interesting. Again, if schools of baitfish are in the area, baitfish patterned lures will work just fine. As long as that food is around, you will still see action on hard baits – such as suspending twitch and topwater.
However, as things cool the approach here needs to switch up.
This is where shrimp and crab pattern soft plastics, especially worked slowly along the bottom, work very well on species like redfish. At the same time, a paddle tail or any other similar soft plastic will work just fine, but the action you provide must slow down to pattern the movements of crab and shrimp behavior.
And even if that paddle tail still represents a baitfish, when all other baitfish are gone, keeping it slow and low will still provide that "easy meal" that even late fall and wintertime species will gladly pick up.
But here is the cool part. There will be points where the overnight temps drop but pick back up during mid-day. Especially in mid-fall, the morning temps can be so low that it will take that soft and slow approach to get anything to strike. However, as soon as the sun starts warming those shallows, bam! Topwaters and suspending twitch baits get right back in the game. In this, it is smart to always keep an assortment with you and ready to go. Many days will be trial and error to figure out the bite.
Fish With Us
We love fall fishing in Tampa Bay, the crowds are far less than what we experience in the summer months and we take a more refined approach to flats fishing. This is where skill, equipment, and experience all combine to make for some of the most epic days in Tampa waters. Capt. Bucky is your go-to Tampa fishing guide when it comes to Fall fishing in the area, and he looks forward to taking you out on your next Tampa Bay fishing adventure!