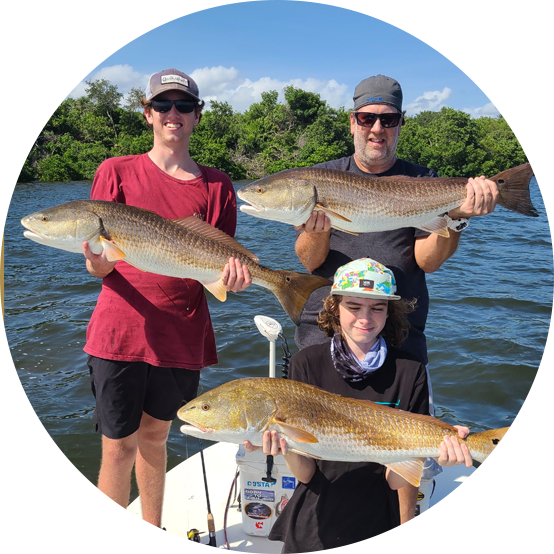 Inshore Shallow Water Flats Fishing Trips
Artificial Only Trips: Geared towards the serious angler who are proficient casters. These trips will truly test your skills as a fisherman. Whether it is a spinning reel, bait caster, or a Fly rod; Capt. Bucky will put you in the best position to maximize your chances of hooking a fish. One or two anglers are recommended for these types of trips. You'll be ahead of the crowd as you head out at first light to maximize your time on the water! The wise captain will have a backup plan of cut bait just incase the fish are being too finicky for artificial. Bringing you own setup is more than welcome, especially when it comes to Fly rods!
Live Bait Trips: Live bait trips are a very versatile way of fishing and a great way to maximize the amount of fish you are going to catch. These trips are great for anglers of all skill levels and are especially fun for kids of any age. Capt. Bucky will typically head out and net bait early and then meet clients at the boat ramp ready to go. Hop aboard and after short drive and you'll be catching fish in no time. Best for 1 to 3 anglers. 4 passengers are possible, but its bests if its two adults and two small kids.
4 hrs- $400 6 Hrs- $500 8 hrs- $600 Ready to go fishing? Call or Text me, Capt. Bucky at
Let me know what dates you're thinking of and let's go bag some serious fish together!
The fishing in and around Tampa Bay offers some of Florida's finest fishing. Captain Bucky's availability can quickly fill up, so don't hesitate and book a trip today.